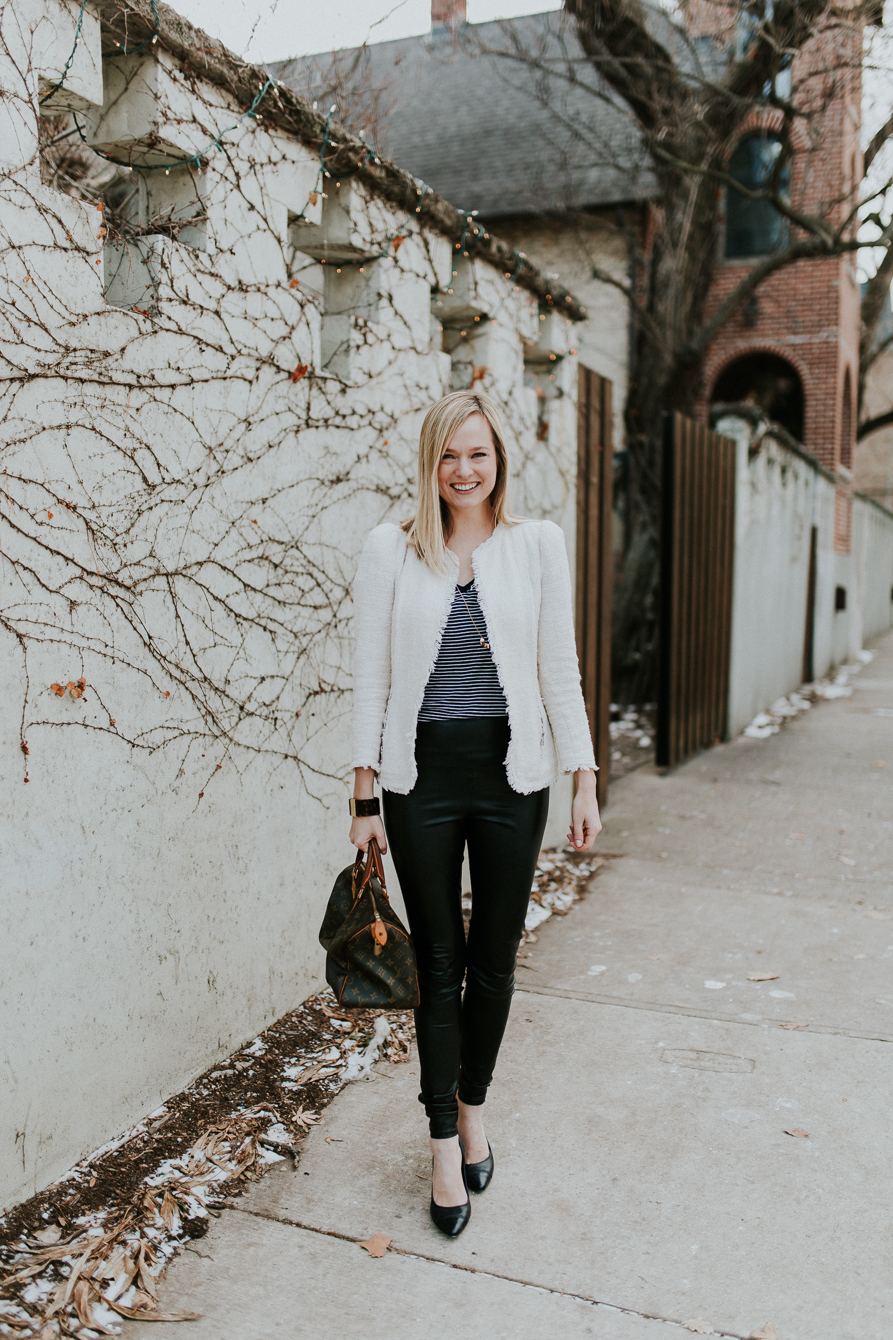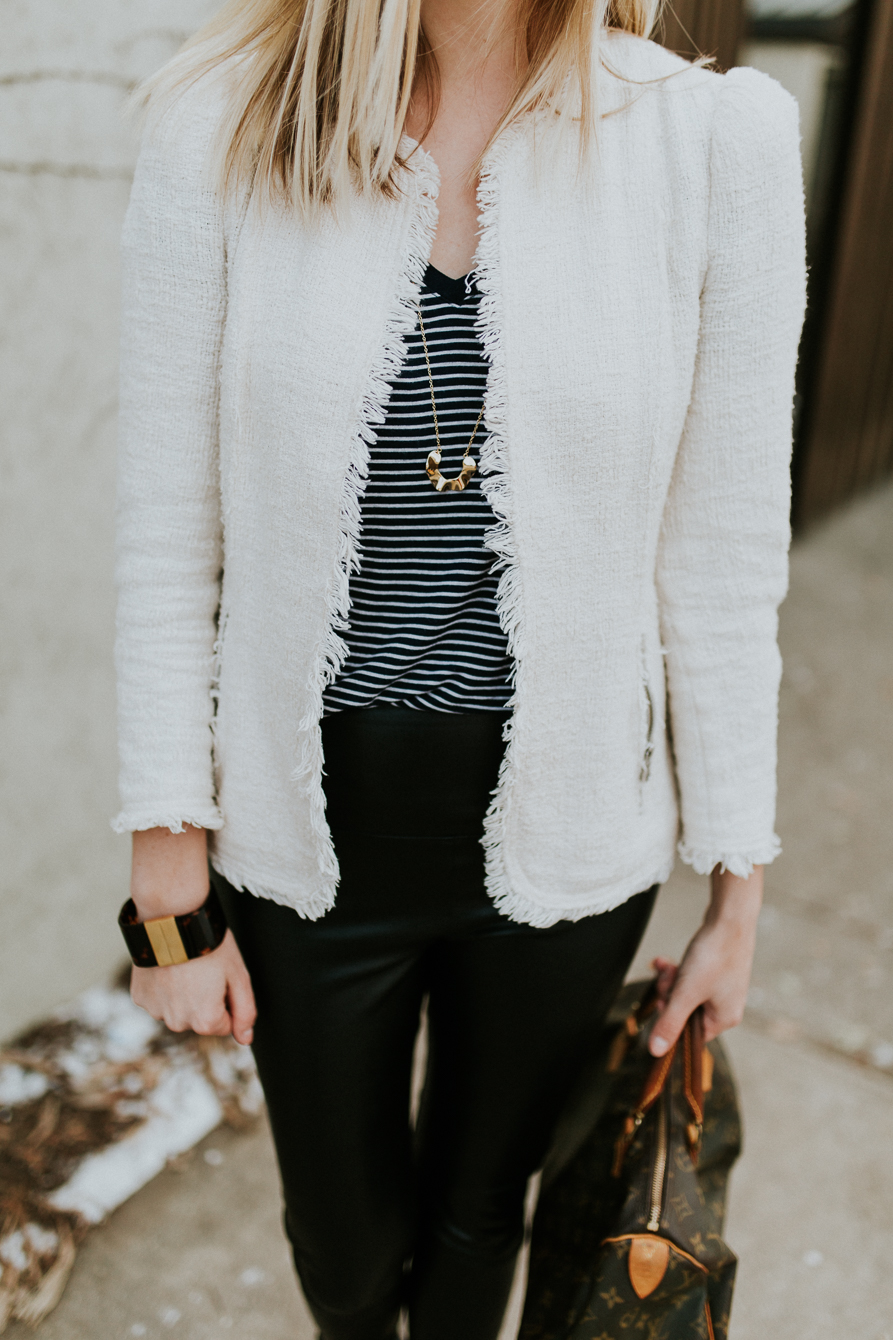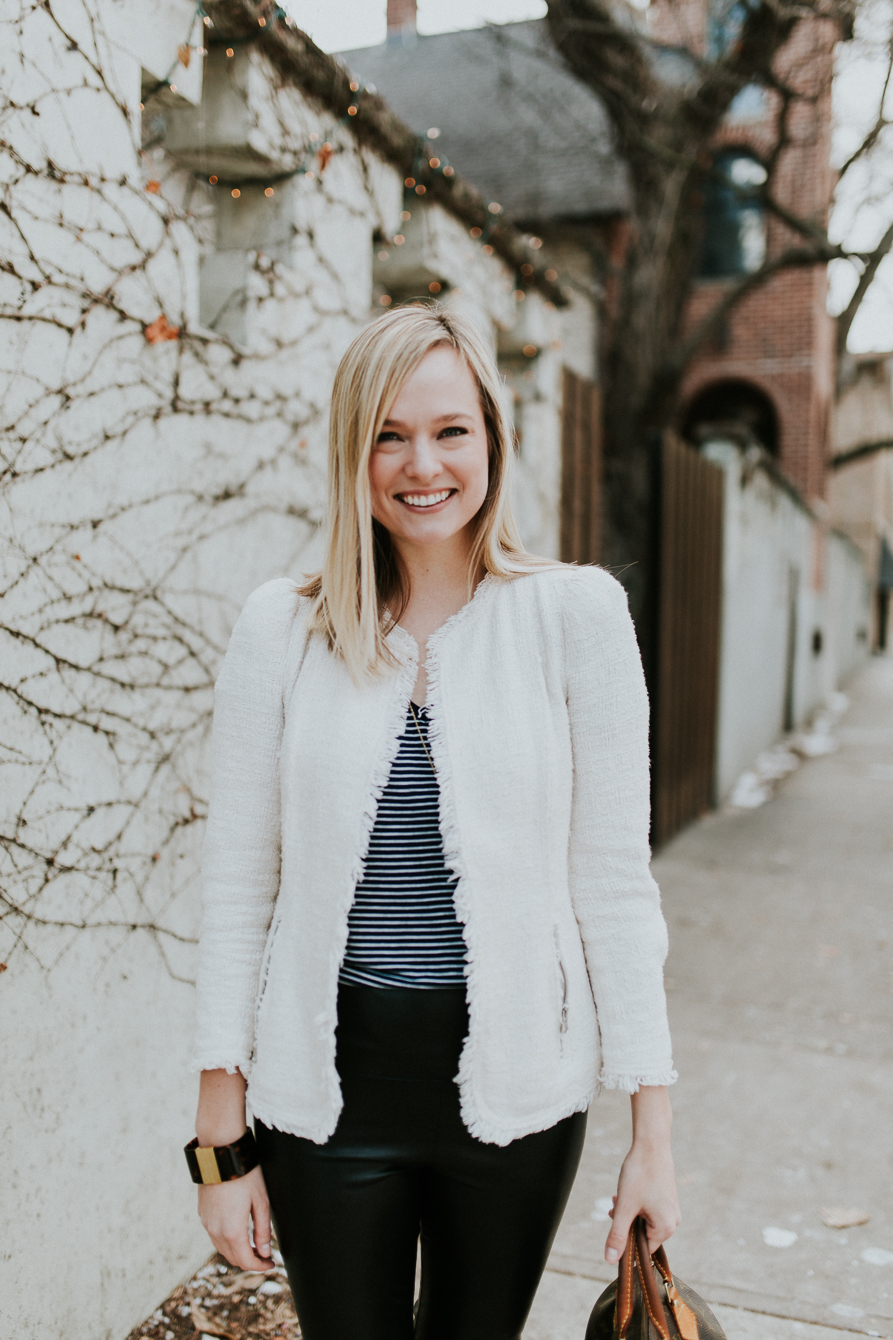 White Blazer {An old one from Nordstrom Rack, but I love this one, and this one in black here}  // Faux Leather Leggings // Tory Burch Pumps {old, but love this pair!} // Louis Vuitton Speedy Purse // Rustic Cuff Tortoise Cuff 
Happy Monday! Or sad Monday, depending on who you were rooting for in the Super Bowl last night…
As usual, I was pretty much only watching the Super Bowl for the halftime show (hellooooooo, JT!) and the commercials. Working in advertising, there's really no time more exciting to watch great work than leading up to/during the Super Bowl, and this year did not disappoint. I used to work at the agency that did the Super Bowl Skittles work (they showed their Super Bowl commercial to one fan they sourced on social media), which I thought was pretty clever – but there were so many other great spots that came out of this year that made the Super Bowl worth watching (and sure, the sports were OK too ;))
Now that the Super Bowl's over, the next big event in my life is heading to Florida on Wednesday to meet up with my family who's been enjoying the sunshine for the past few weeks. Every year my 92 year old grandpa, my parents and my aunt and uncle make the trek to Sanibel Island Florida for a few weeks, and I usually try to spend at least a long weekend with them soaking up the sun and enjoying Grouper Sandwiches with them. It's one of my favorite times of the year, and I'm so ready to take a little mini-vacation from work for a few days. This winter weather has been getting to me (especially with the snow in Chicago the last few days!), so I'm ready for some sun, sand and a big glass of wine. I'm planning to share some Insta Stories of my trip, so if you're also in need of some rays be sure to follow along. I promise I won't try to gloat too much!
This week is also a big one because I'm turning 29…gah! I'm not that nervous about getting older, but part of me is kinda ready to get closer to 30 and transition into another decade of my life. Everyone's 20's feel like a whirlwind, so for some reason I have high hopes that once I enter my 30's, my life will settle down a little bit. I'm not sure why I think that's the case, but I'm hoping my last year of my 20's will help me ease into feeling a little less crazed and a little more balanced. I'll report back on how that goes…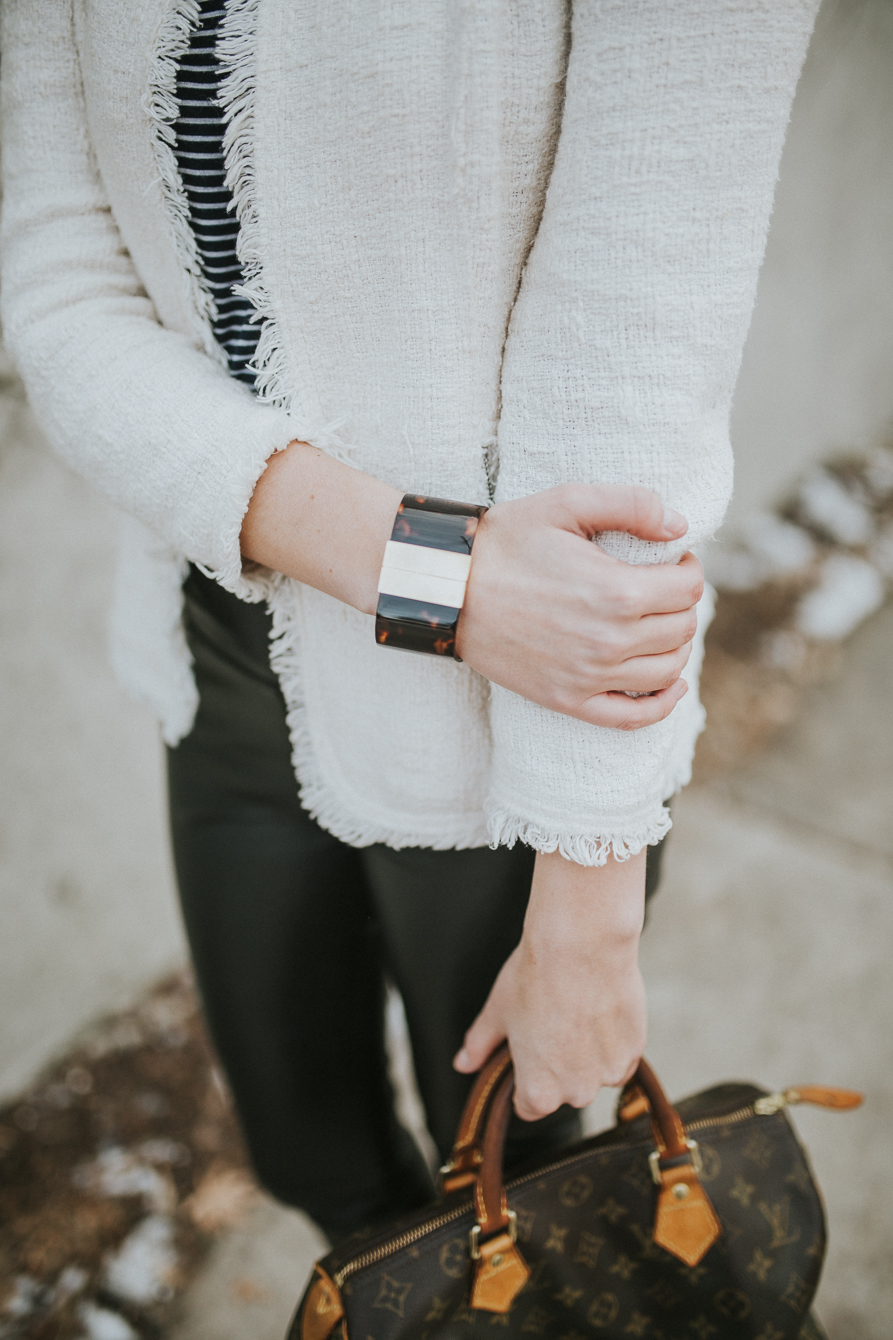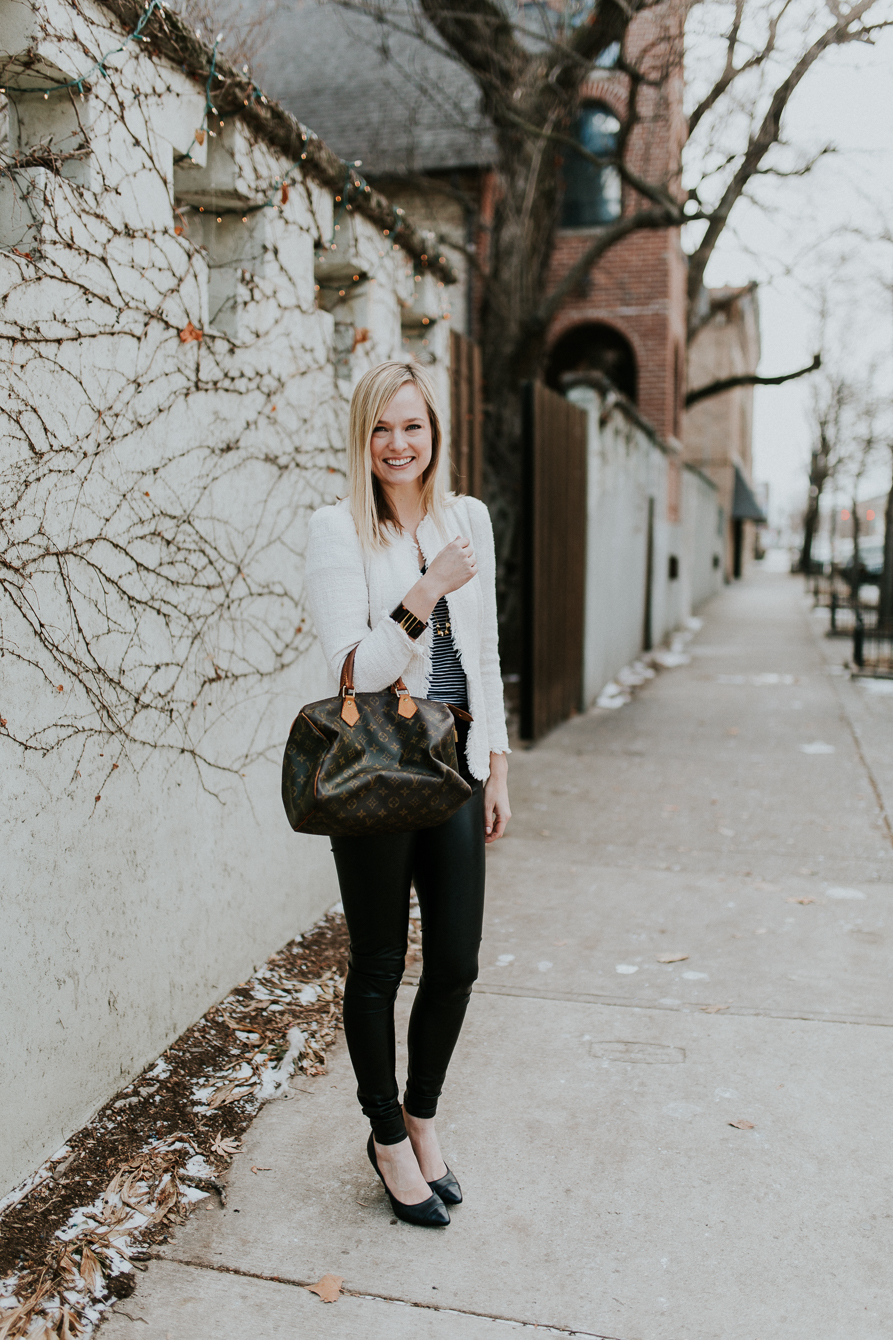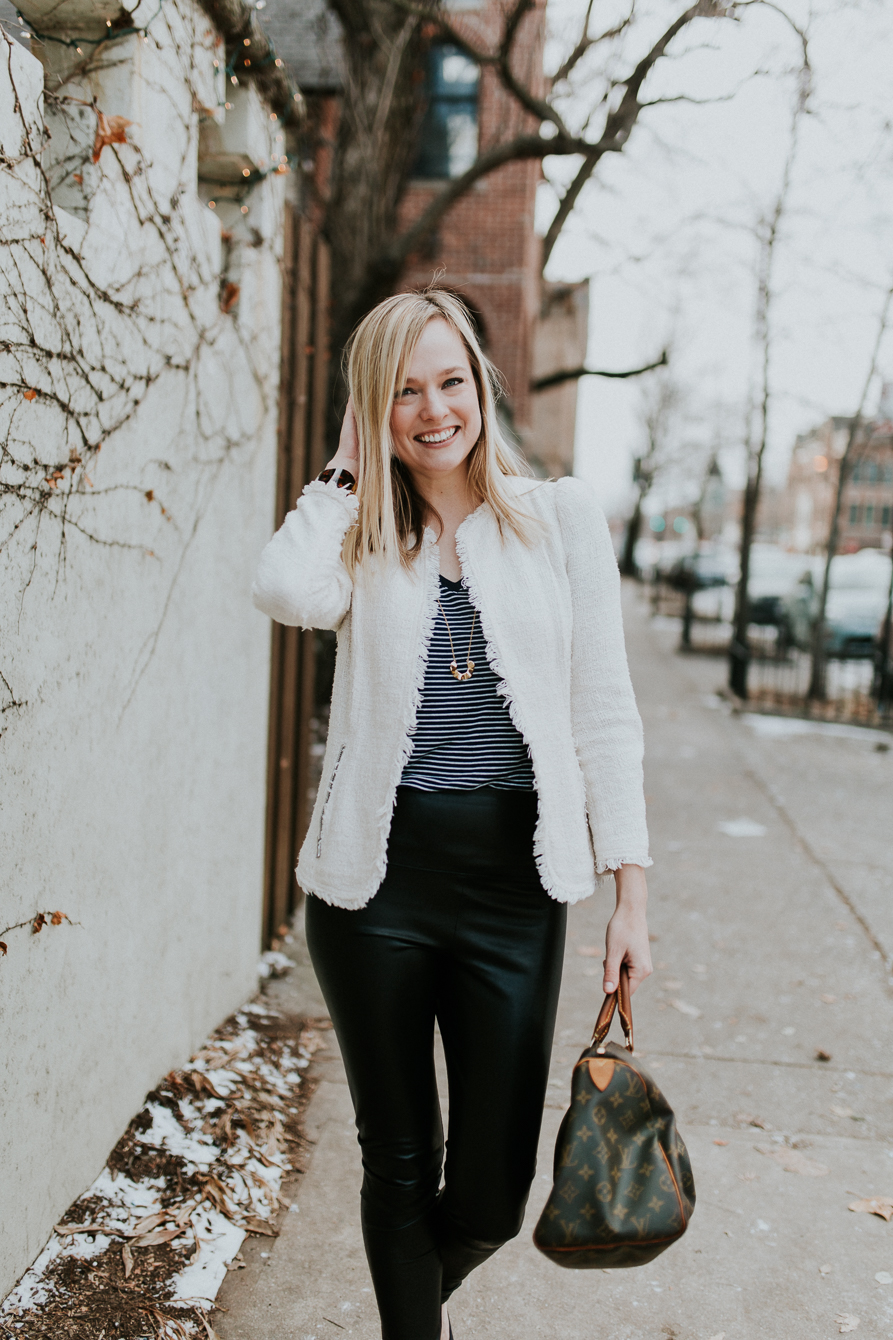 In other news, I've been trying to be a little more choiceful with my wardrobe these days, and culling it down to just the essentials. A few weeks back I completely went through my closet and donated a good portion of it to Goodwill in an attempt to feel a little less overwhelmed by all the things in my life. Now, with a much less crazy closet, I've been trying to remix outfits with a few key pieces that I love, rather than filling me closet with more clothes that I'll inevitably get bored of in a few months.
These faux leather leggings have been on repeat during the weekends, and depending on how casual your work environment is – they could totally be workwear appropriate paired with a blazer and heels. I can't quite swing the look at my job based on our dress code, but it's still a totally polished (but comfy!) look for the office. I've also started tucking in more t-shirts to high waisted pants like these leggings, and I love how much it makes me feel slimmer instantly. Sometimes you need that after eating a Chipotle burrito for lunch 😉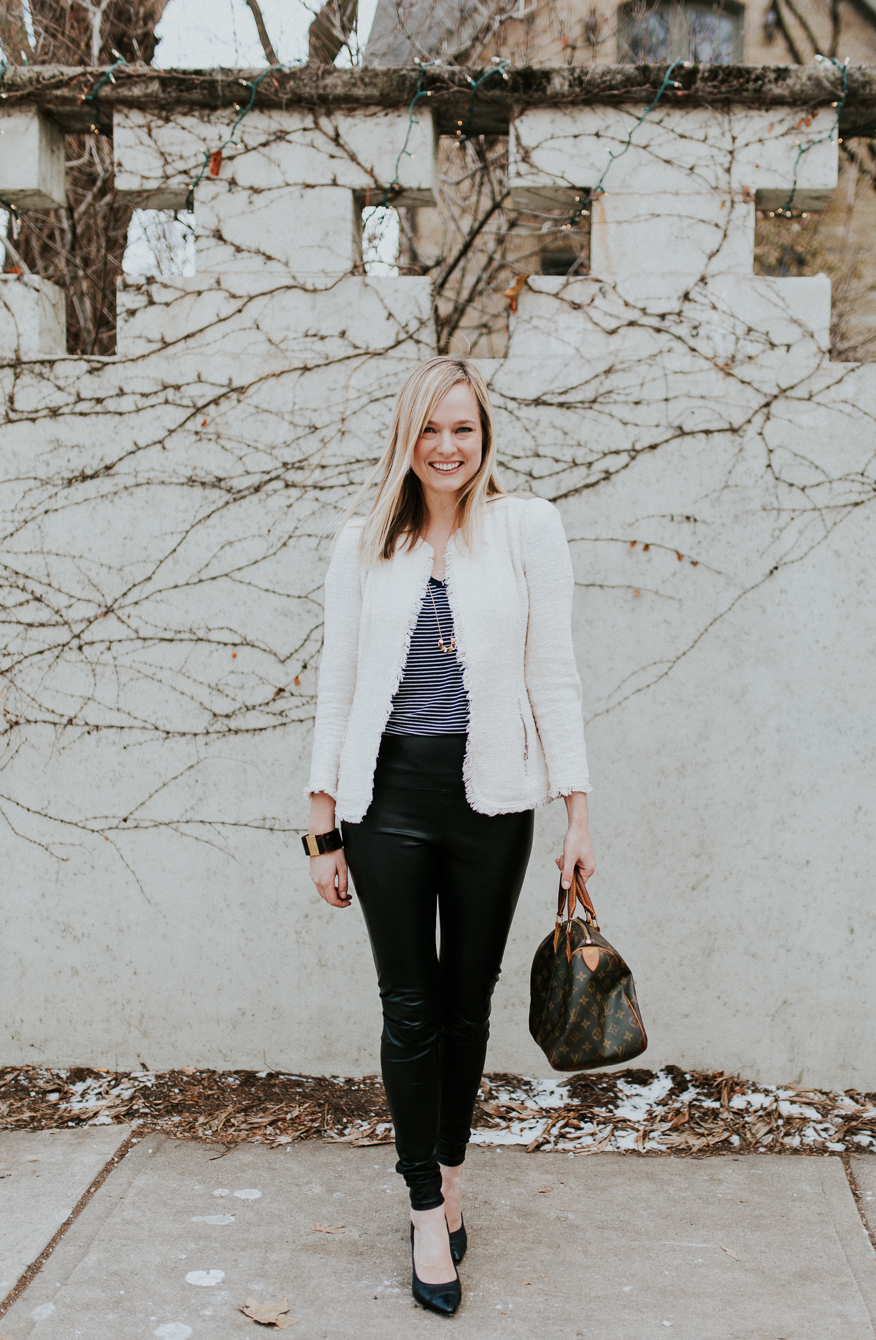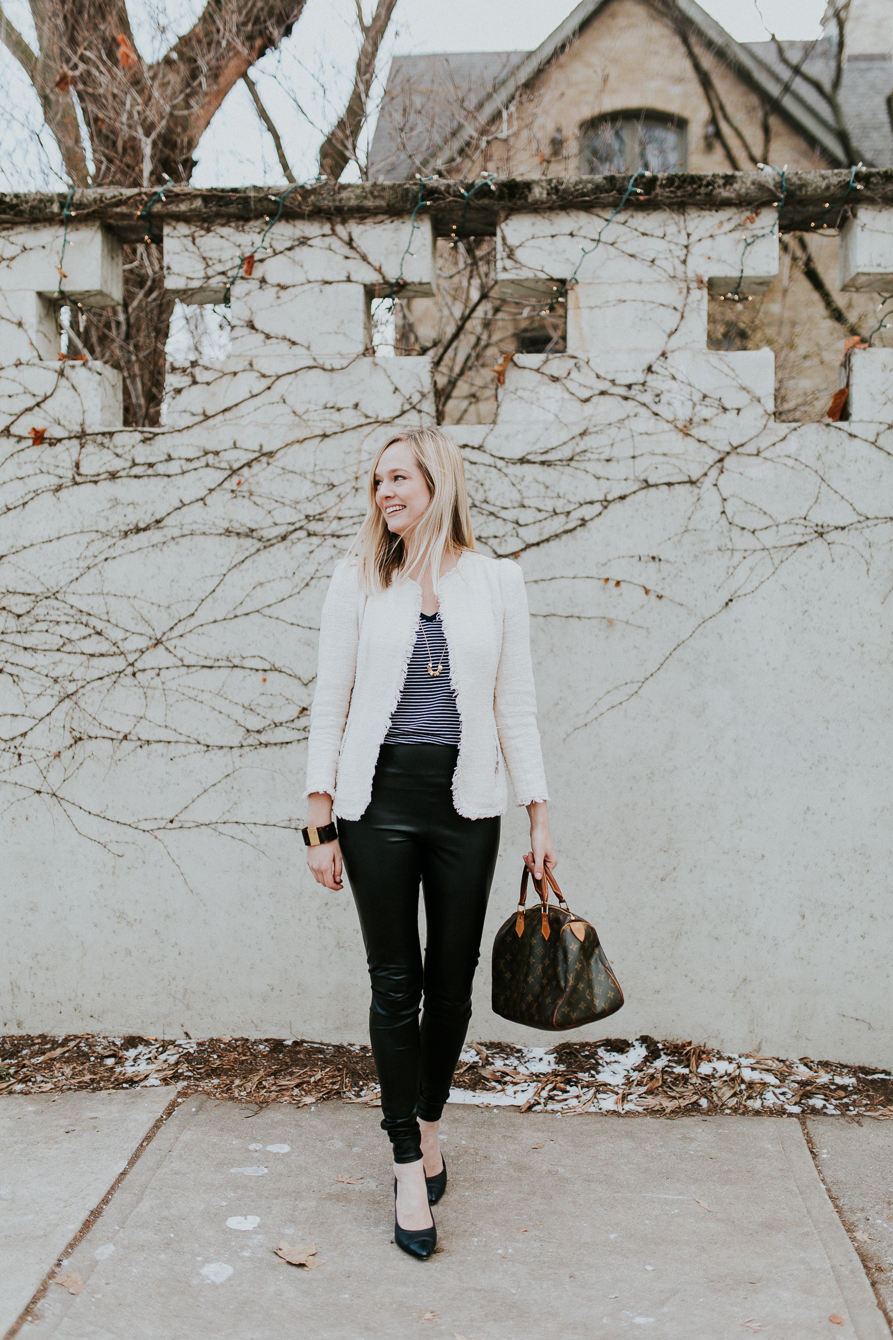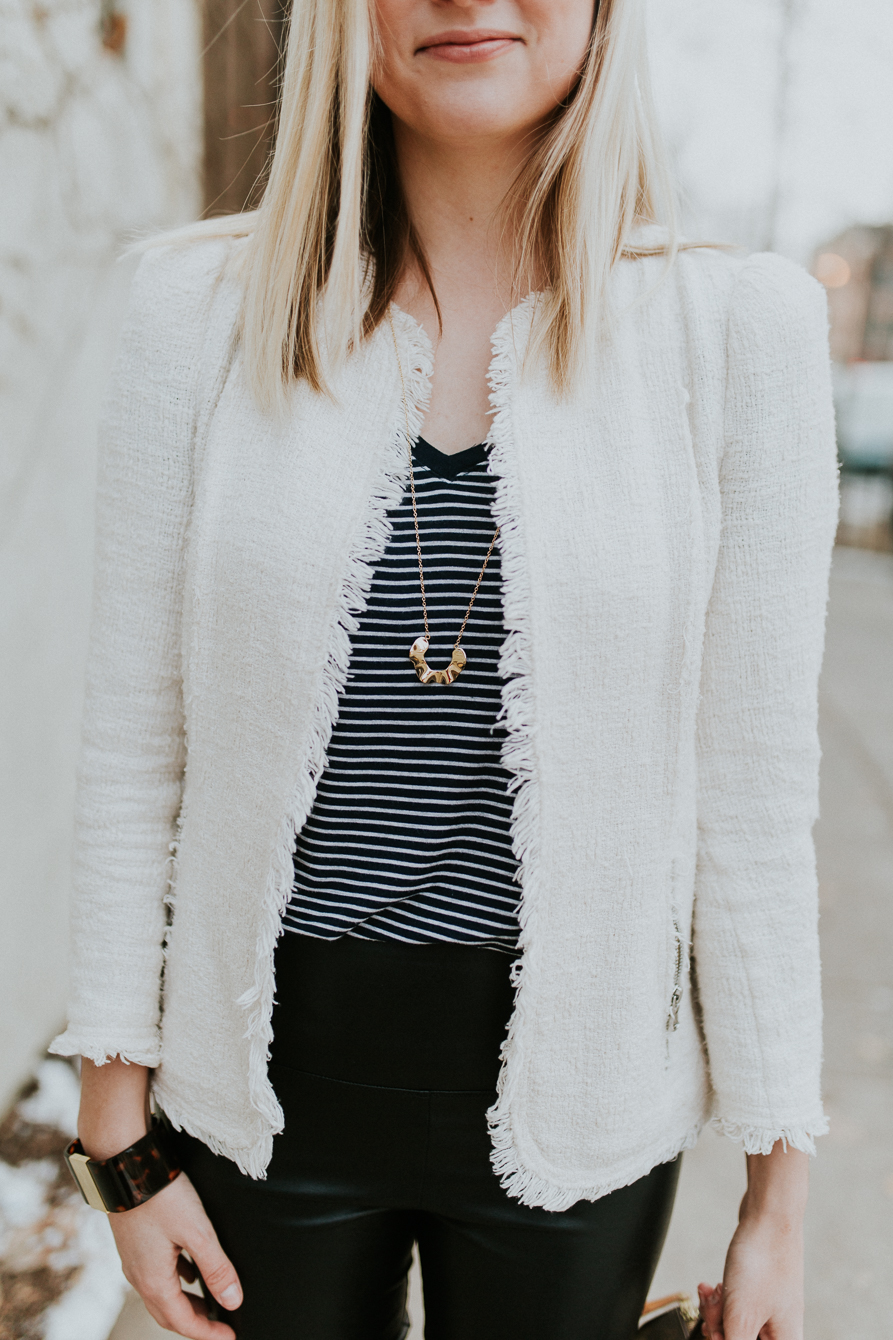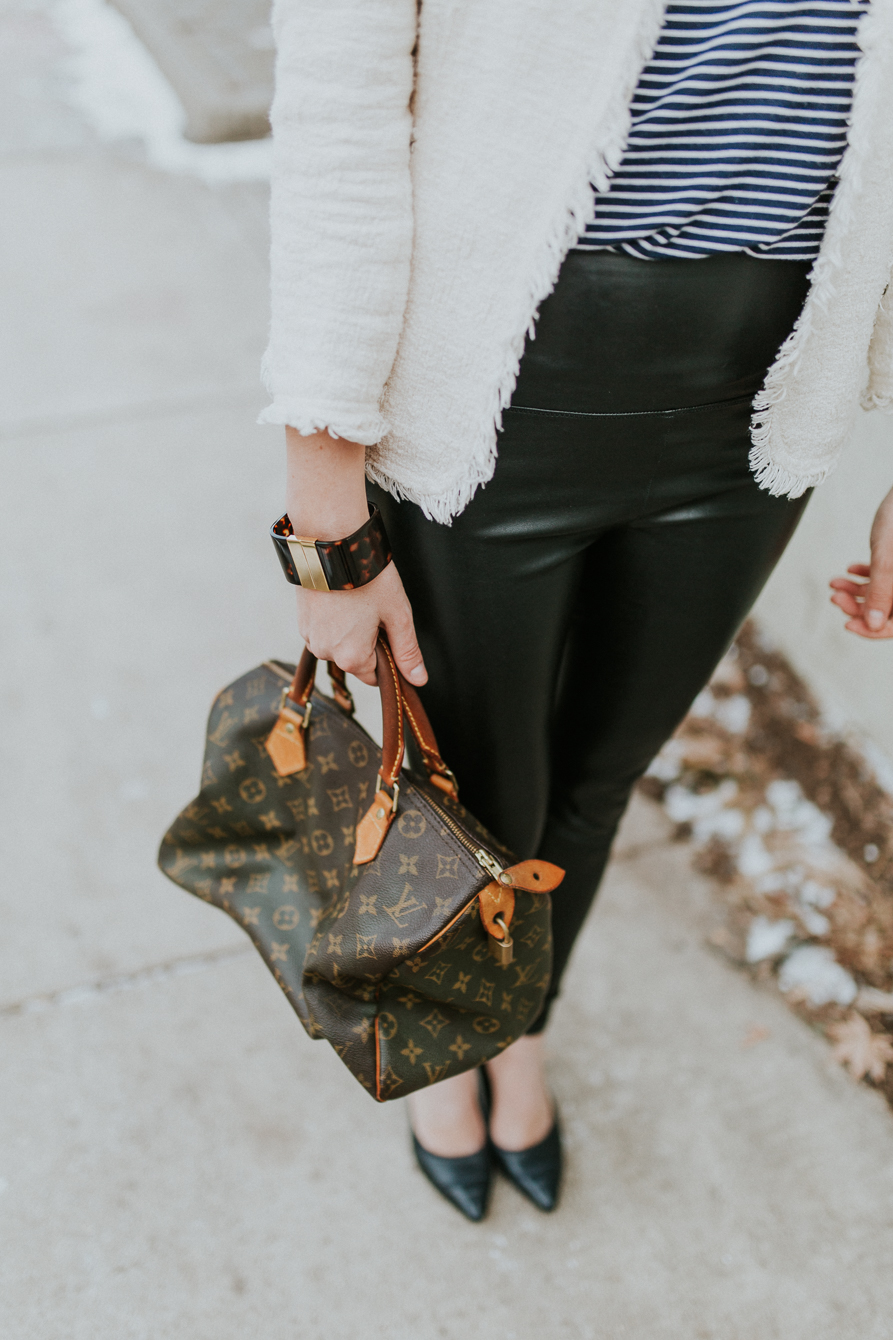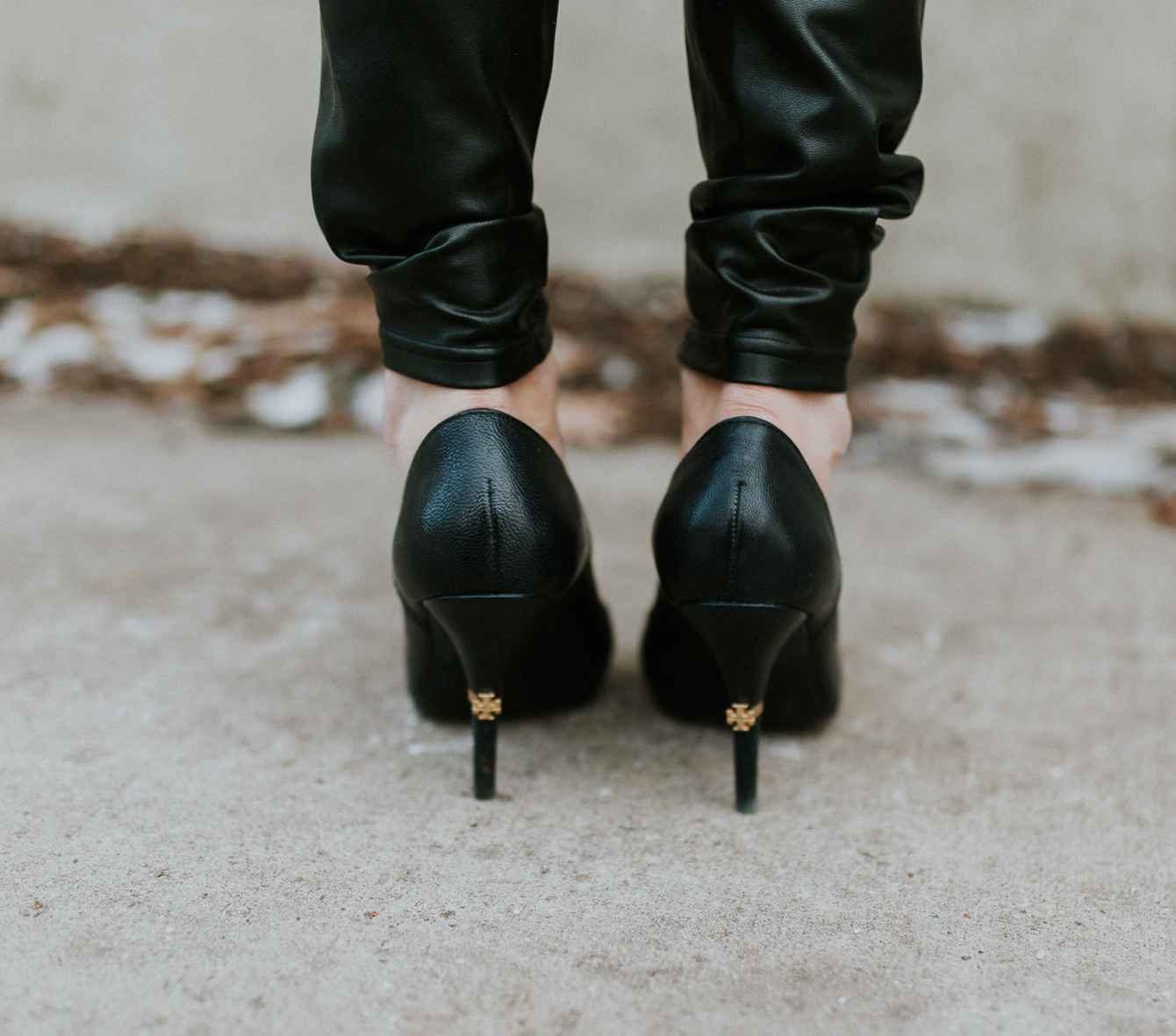 Alright, that's all I've got for today – but I hope you're all looking forward to the week ahead (and have some fun plans outside of work too!) I'll be freezing my booty off in Chicago for the next few days, but I'll make sure to share some Florida highlights once I've landed later this week 🙂 xx