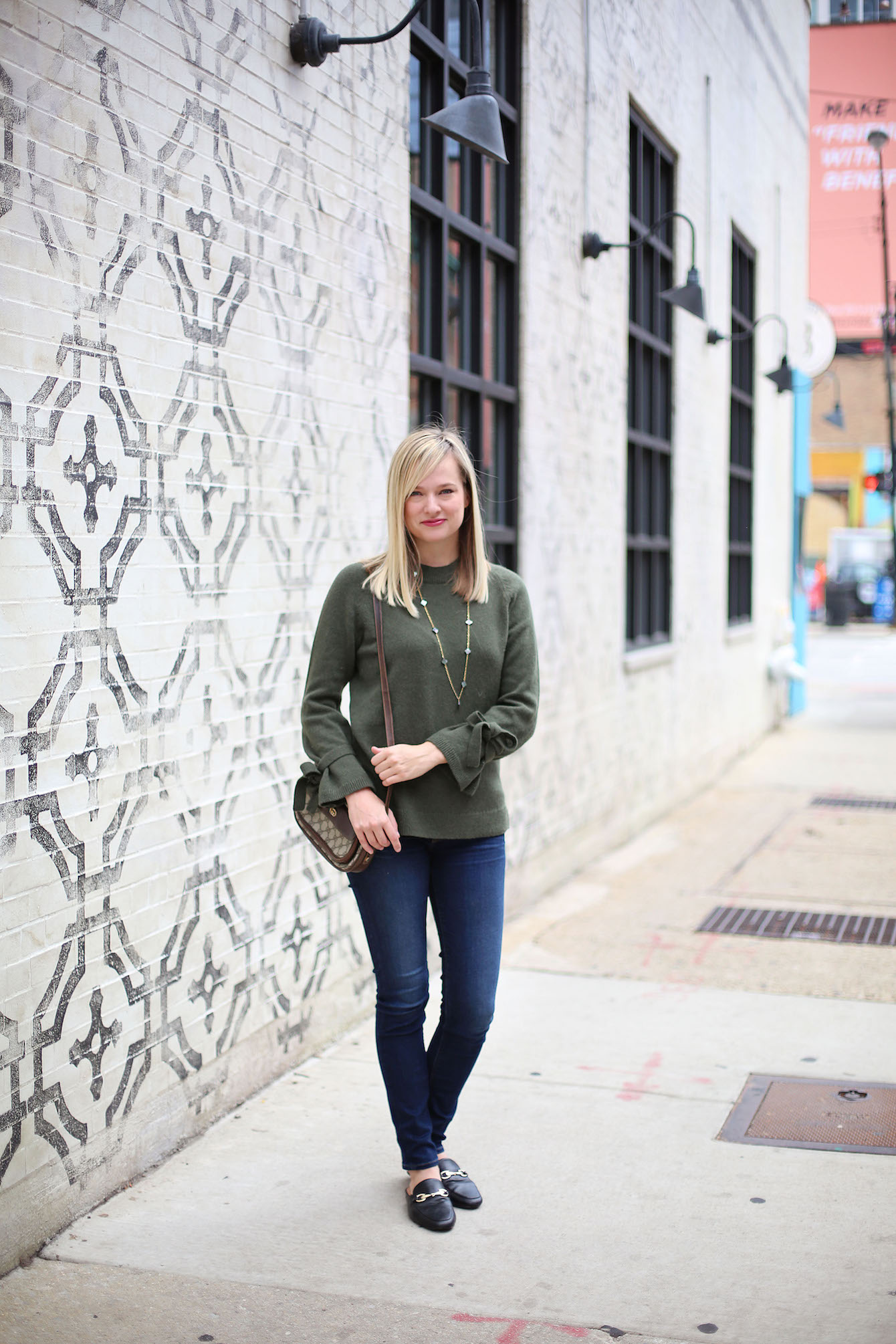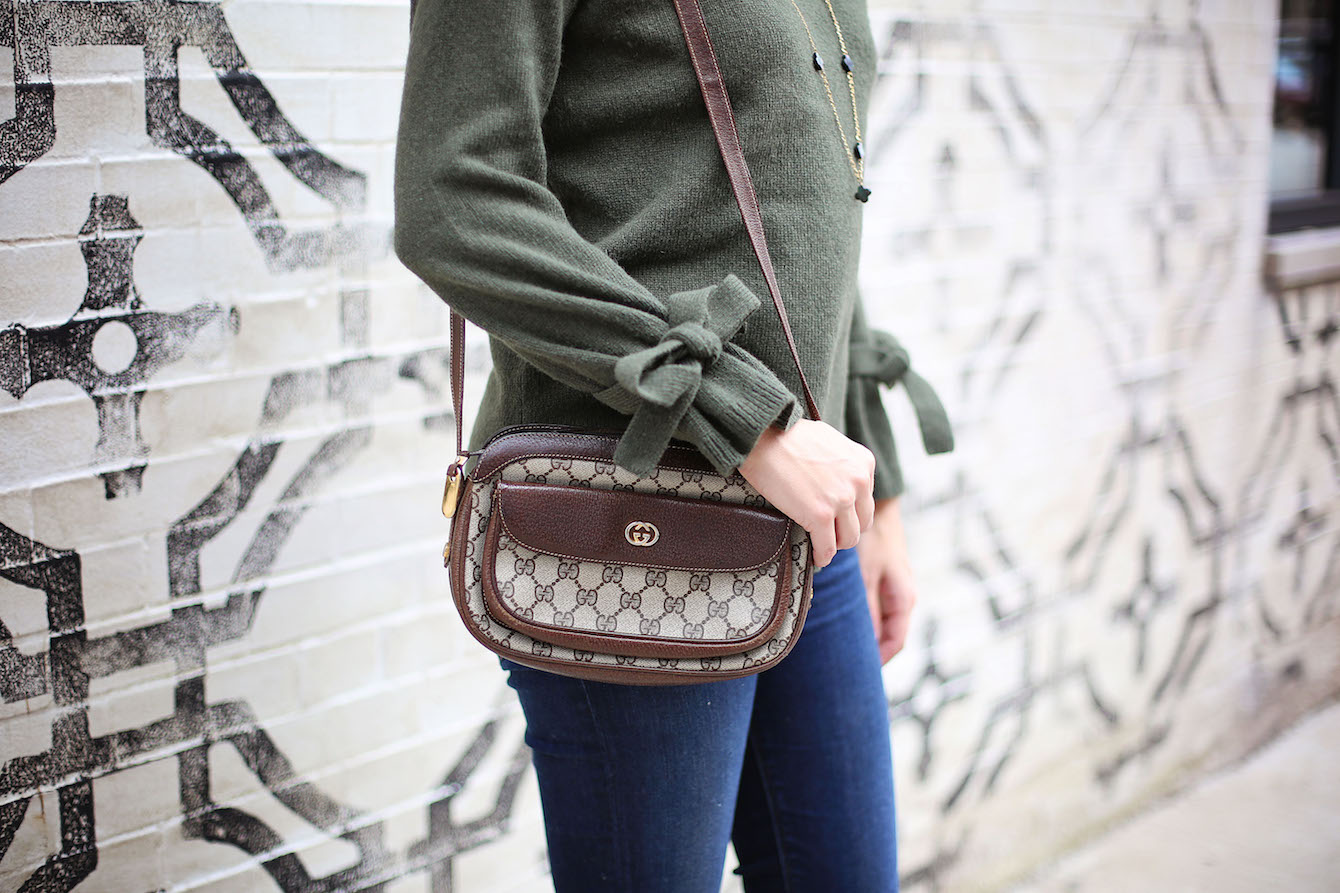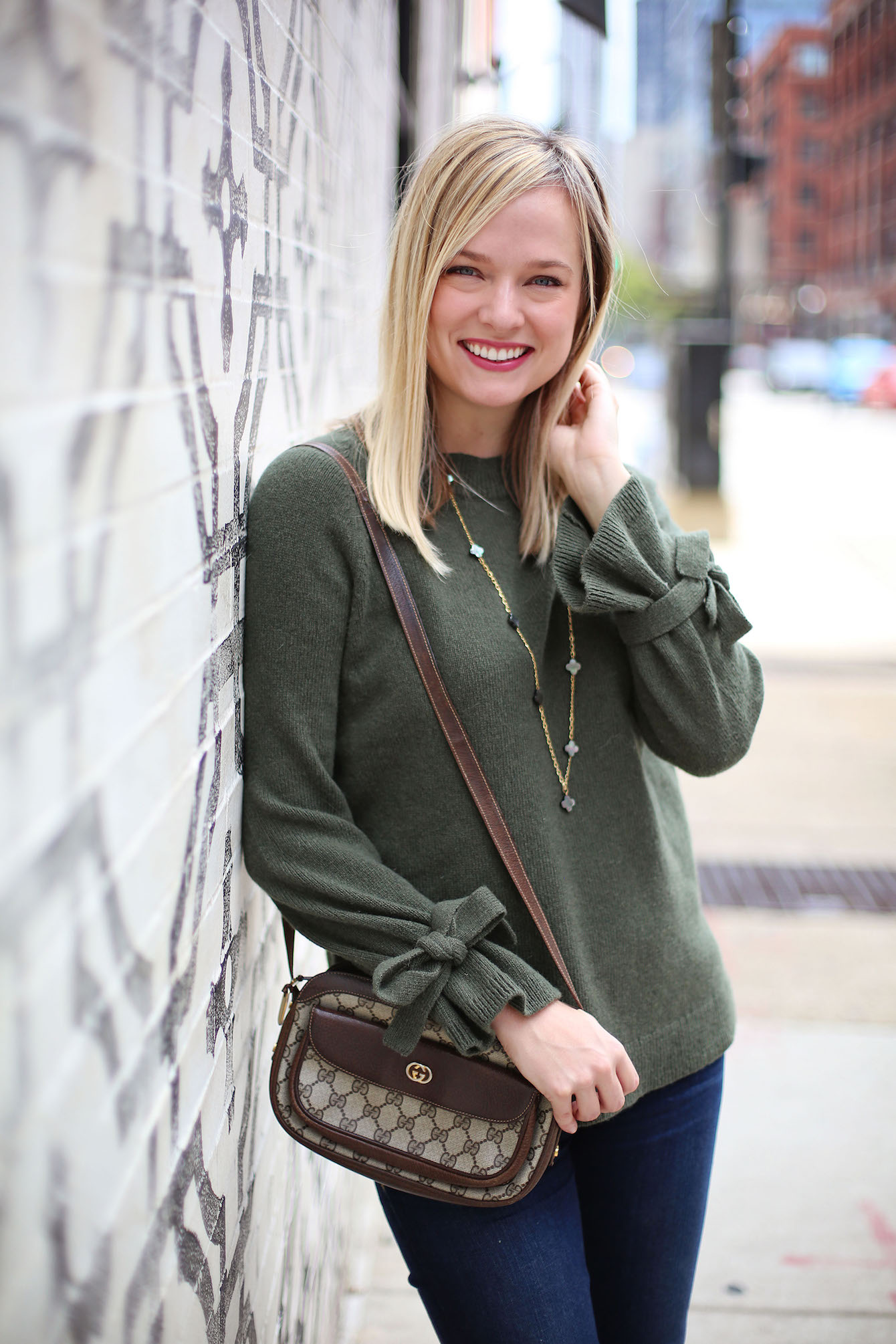 Ann Taylor Luxe Tie Sweater // Hudson Jeans (I scooped mine up from Marshall's!) // Vintage Gucci Purse (this one was my grandmothers – but this one and this one are also gorgeous with the same print!) // Black loafers (under $25 and so comfy!)
…And just like that, we're back at it – Monday is officially here. I'm still a little bright eyed and busy tailed after vacation a few weeks ago, but last week was a little bit of a rude awakening getting back into the swing of things. But hey – I still wouldn't have it any other way. Okay, maybe a few less late nights in the office, but other than that – I'm good, I swear!
Going on vacation is one of those things you know you SHOULD do, but it always seems so hard to get away. Between finding a perfect place to go, booking a flight and getting your s**t together in organizing it all – sometimes it feels like more of a headache than something to look forward to. But as a gal who has a hard time taking vacations, I'm here to tell you – GET IT TOGETHER AND TAKE YOUR VACATION TIME, FRIENDS! Do it….and do it NOW – because you'll feel so much better once you finally do!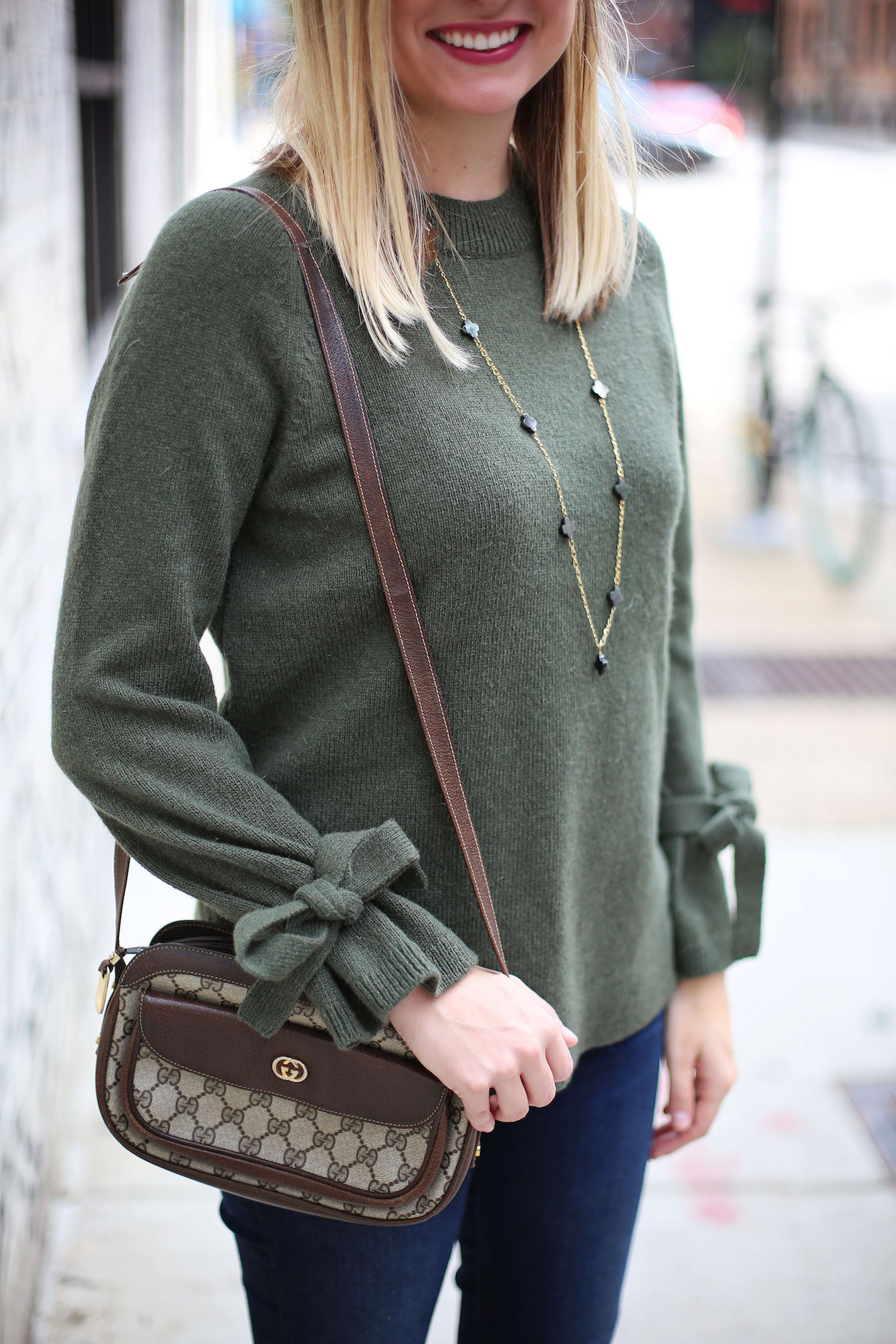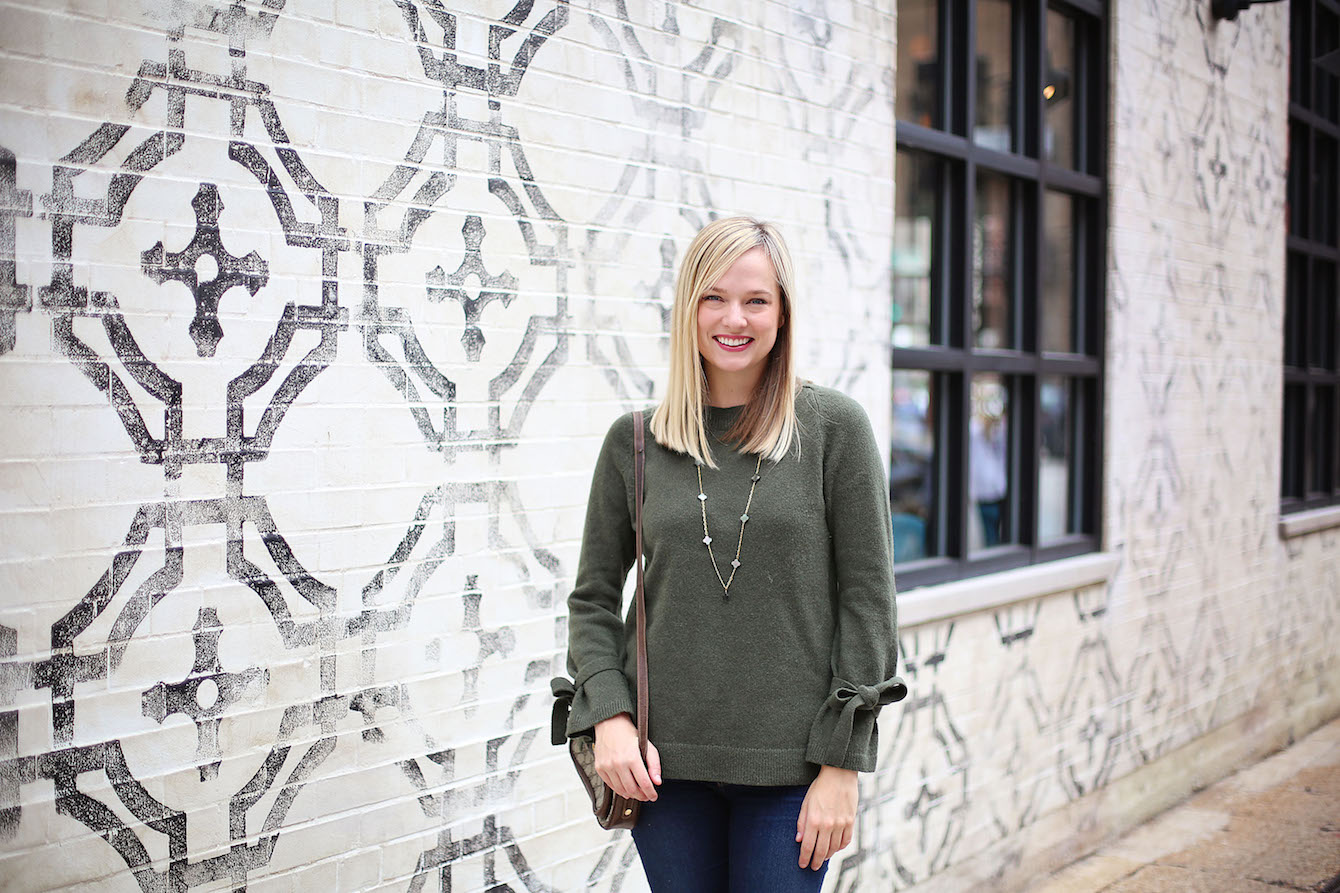 1) Work on your dreams, kid: Honestly, I used to be so good at writing down goals – I was a freaking goal setting machine. And these days, I usually sigh and sit on the couch after a long day of work, rather than attempt to get it together on the goal-setting front. As I was walking around Barcelona, I kept thinking about my dreams that have been deferred because of how busy life is – or those big, audacious goals I've been pushing to the side so I can just get through the day. So I promised myself that I would write down all my big goals once I got home – and that's precisely what I did (more to come on that later…)
2) Slow. Things. Down: I am a serial rusher – I wake up 15 minutes before I need to run out the door for work, I rush through emails, I rush through meals, I rush though everything. I wish I burnt more calories rushing around, but most of the rush is mental – so it was a huge relief to be on vacation where I couldn't rush myself too much throughout the day. I had to go with the flow (especially since I pretty much took a backseat to the planning portion of our trip!), and it felt good to let other people be in control, and not feel like I was rushing from place but actually enjoying the ride – what a novelty, right? While I know I'm always going to be rushing around in some capacity, the reminder to slow down is always appreciated. And needed.
3) Fill Up Your Cup First. I know, I know – this isn't a new concept by any means – but it's a good reminder that it's important to take care of yourself before you take care of everyone else in your life (well, at least if you don't have kids – I'm pretty sure that doesn't quite fly once you're a parent 😉 ) Traveling is one of those things that makes me extra happy and thankful, so getting away reminded me that I need to do a lot more of it (and prioritize it, even when life seems a little crazy). Here's to starting to plan my next big adventure for next year.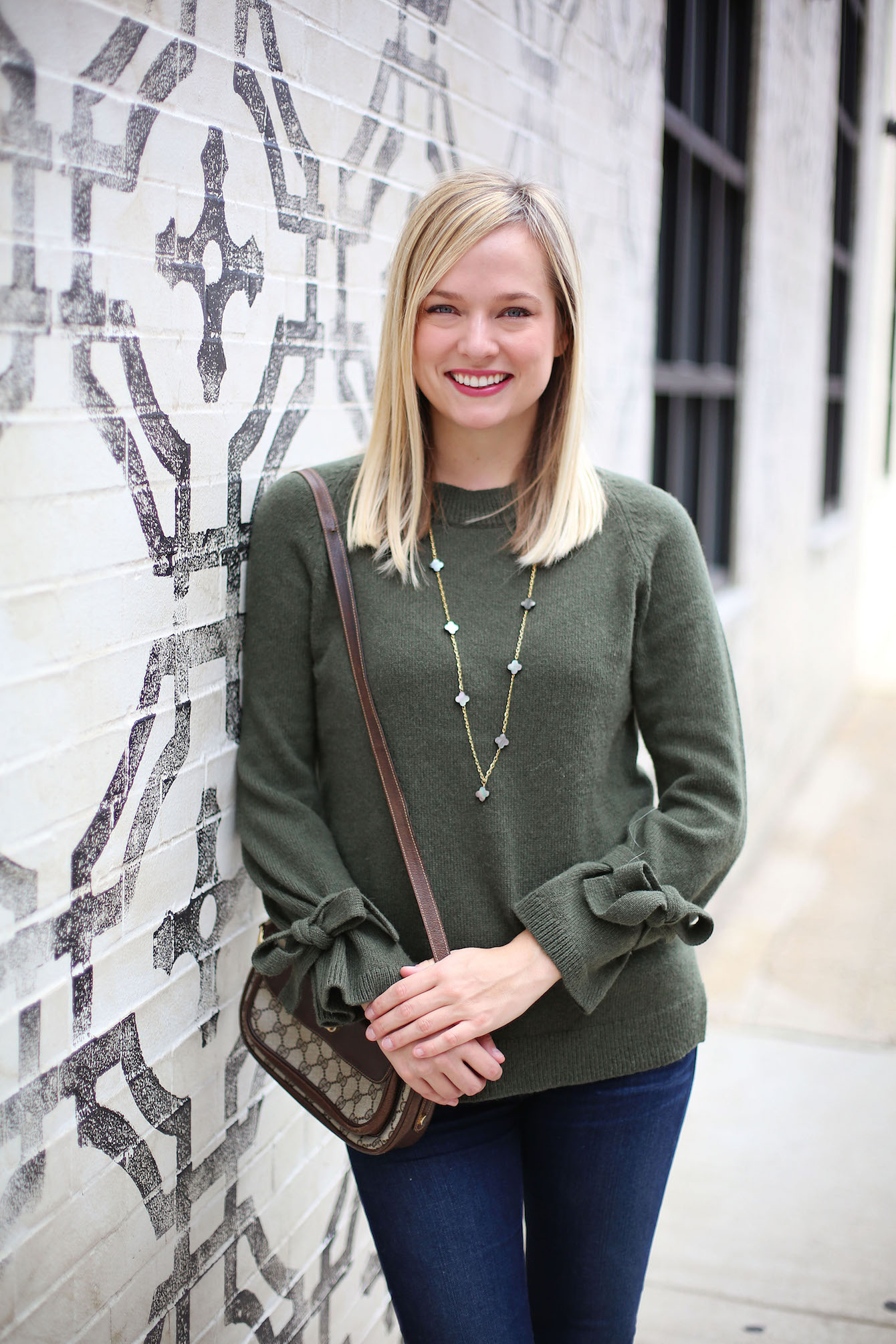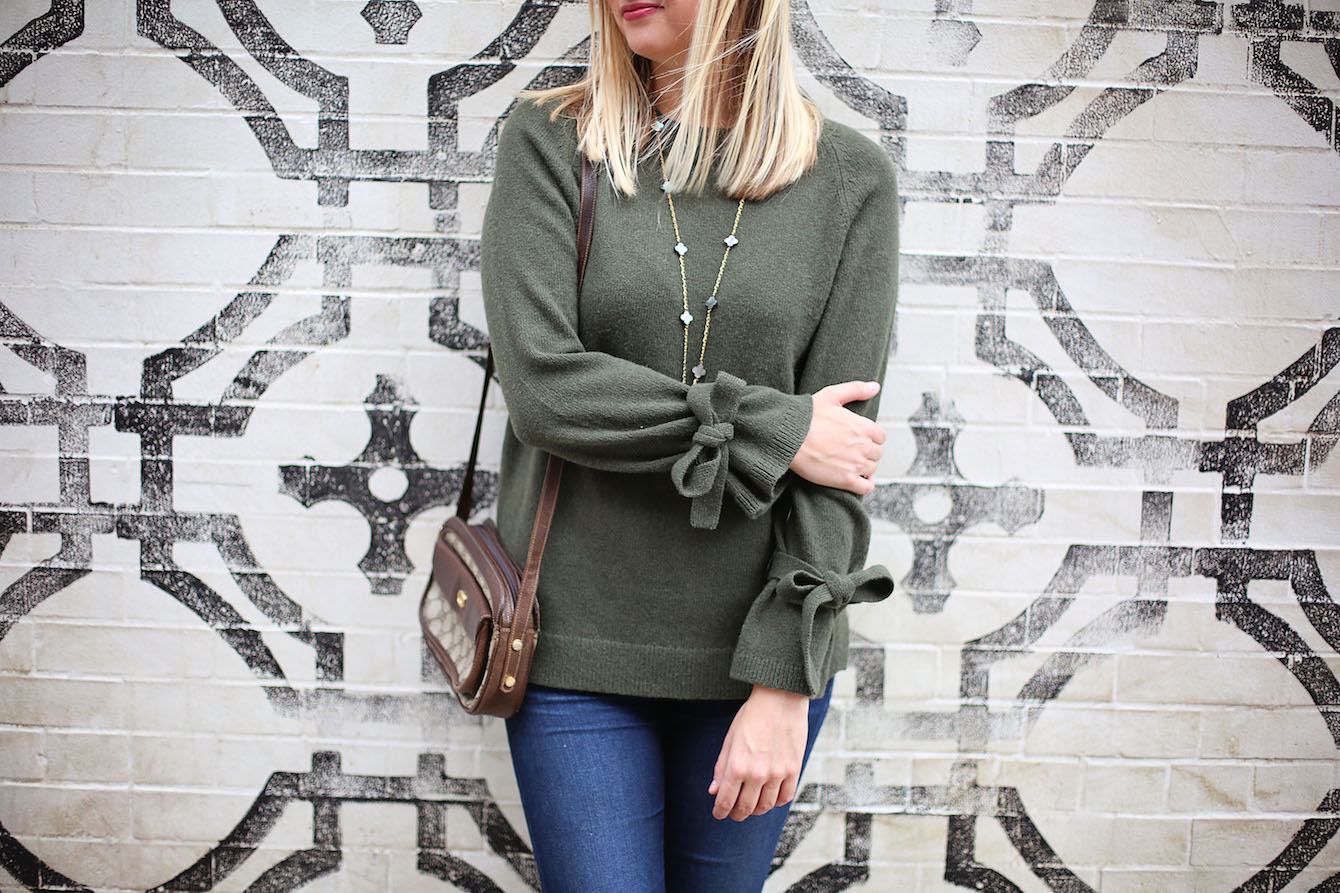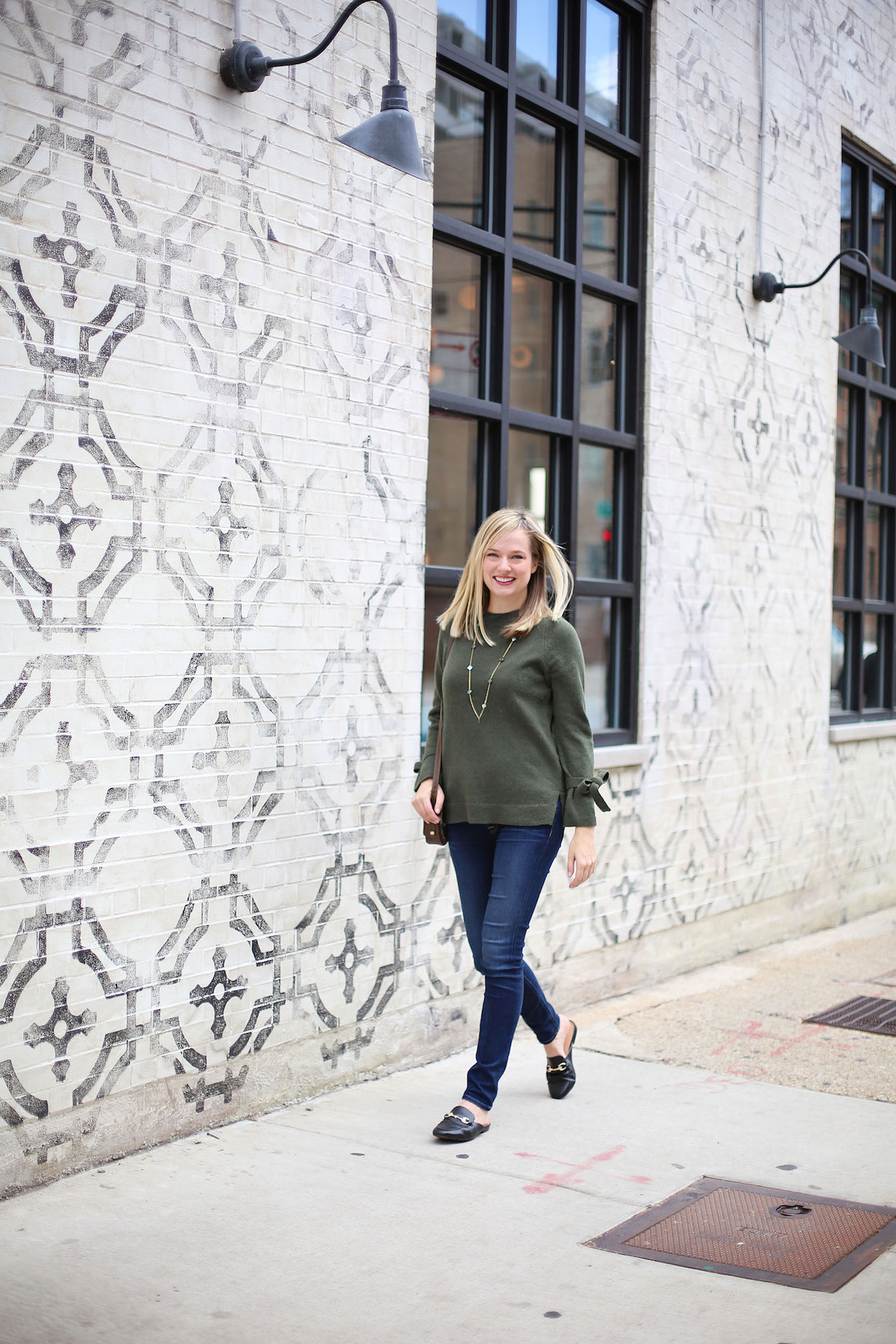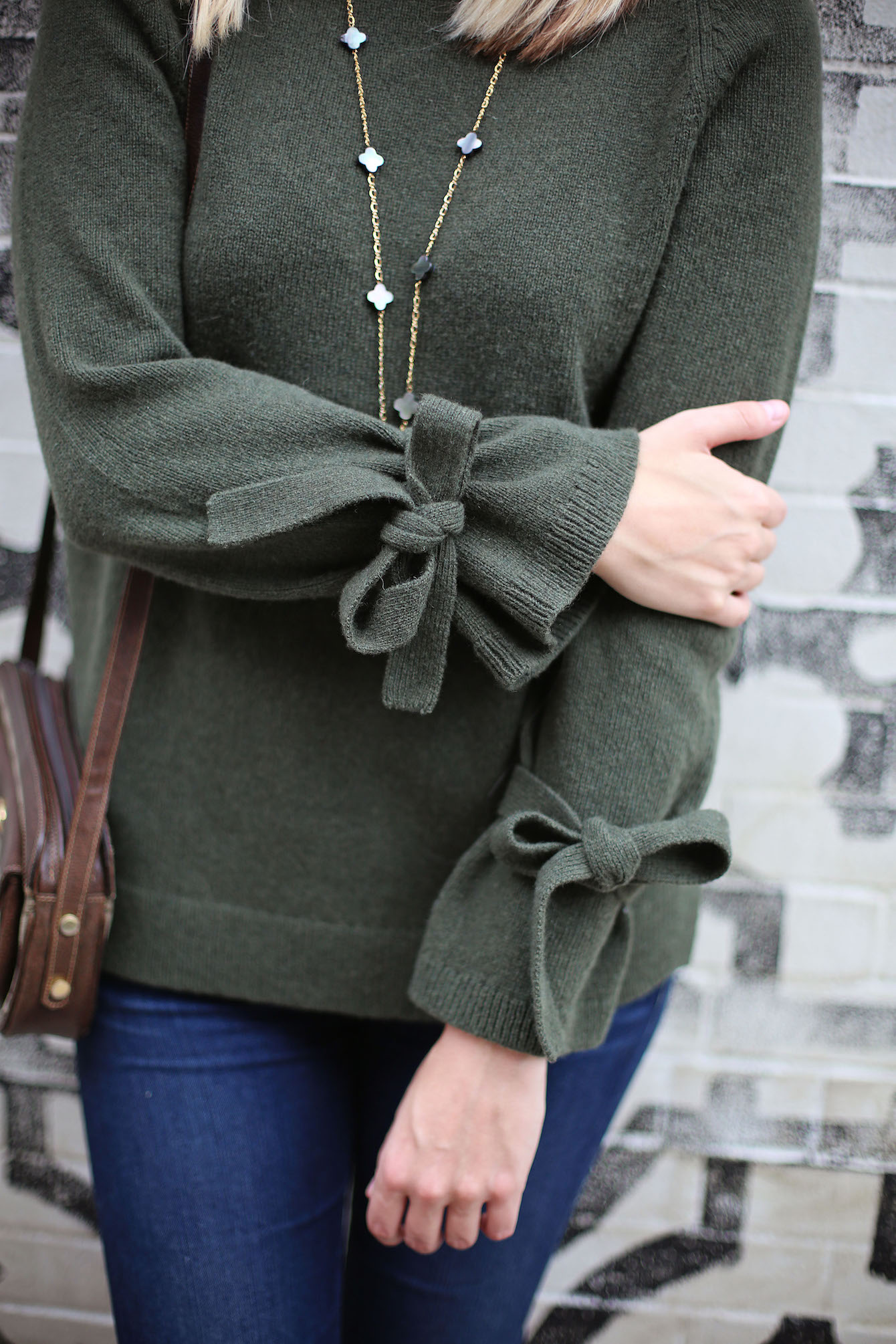 Alright, have I totally convinced you to go on vacation yet? Hopefully you're now in the middle of checking the best flight deals to a fun, tropical, beautiful place soon 🙂
And now for the more outfit-y portion of this post, I am so excited about this new green sweater I recently snagged from Ann Taylor a few weeks back. It's from their new luxe collection, and it's basically like wearing the coziest, chicest blanket while still looking stylish. I've been eying up those cute tie sweaters I'd been seeing all over Instagram, so when I spotted this one at Ann Taylor, I knew I needed it in my life pronto. I actually bought it in a petite since it was a little shorter than the regular one, and it's been perfect for styling on the weekend (like the outfit above with jeans and mules), or for the office with a pair of dress pants. I may or may not have already convinced a few of my co-workers to buy one for themselves too!
Speaking of work, I got to get my booty to the office before I'm late! Here's to hoping you all have a lovely Monday (and rest of your week too!) xx