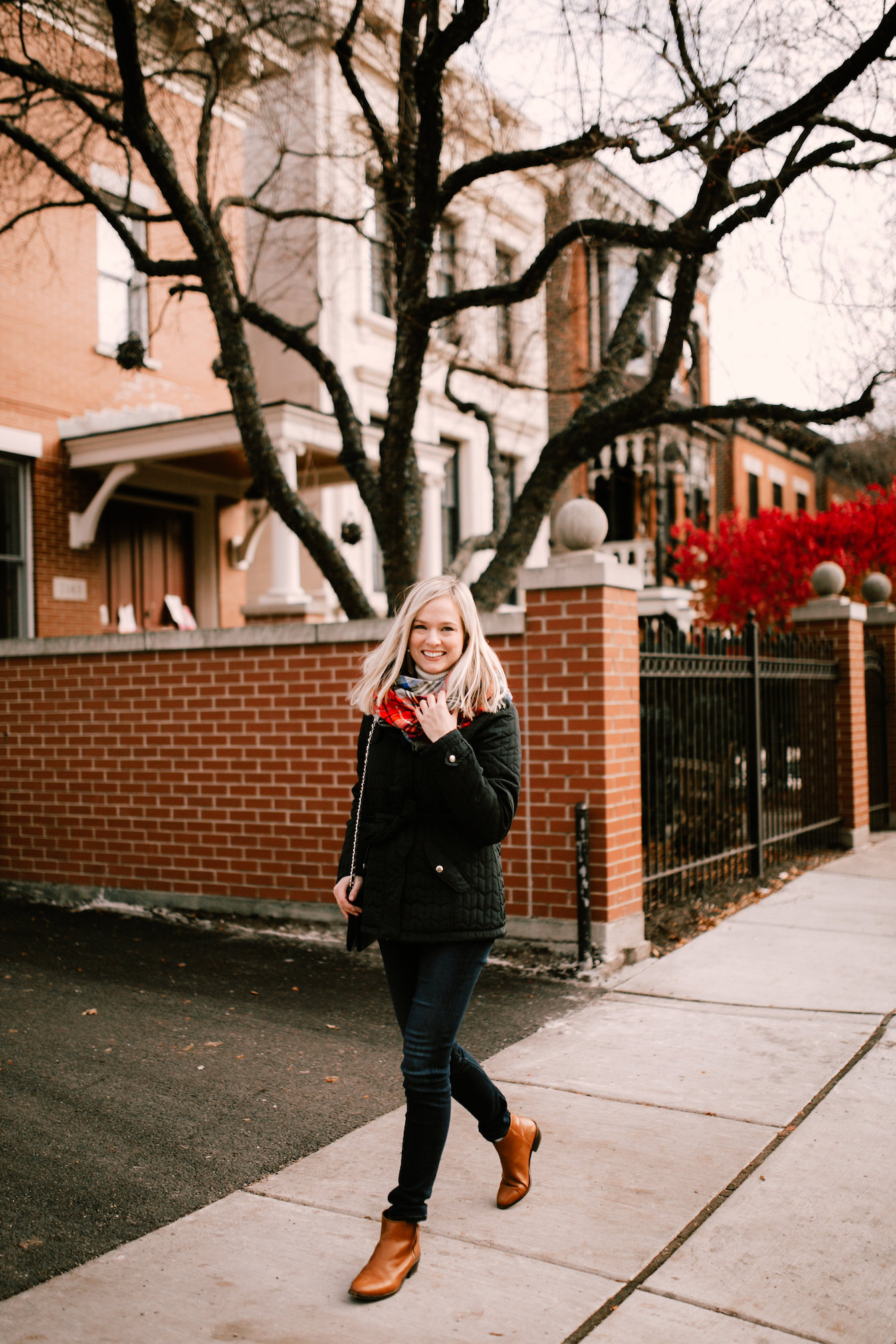 Gordman's Jacket, Sweater and Scarf // Brown Booties (sold out, but similar here, here and here) // Tory Burch Purse // Hudson Jeans
We're having a heat wave here in the Midwest this week (okay, not an actual heat wave, but I'll take 50 degrees in November any day!), so I've been putting away my parka and trying to soak in the "warmer" days as much as I can before the winter hits us like a ton of bricks. Even though I've lived in the Midwest my whole life, I still get a little anxious about just how crazy cold it's going to be in Chicago in the winter, and I'm dreading the day when I wake up to see -10 degrees on my iPhone weather app. If you live in anywhere warm during the winter – congratulations, you made an excellent life choice 😉
But honestly, the winter isn't all bad. Cold weather is the perfect time to cozy up at home, light a million candles, drink hot cocoa (or mulled wine, let's be real) and layer up on cozy layers all season long. I've loaded up on scarfs, sweaters, coats, slippers, extra-thick socks, and everything else you need to effectively hibernate all season long.
The one problem? Loading up on cozy clothes seems to cost an arm and a leg these days. In the world of $900 winter jackets, luxe cashmere sweaters, and all the crazy expensive things you "need" to stay warm this season, when you start to add them up you realize that by the time you get everything you won't actually be able to pay your heating bill this month (which is probably a little more important than designer slippers, right?) And since I'm on a budget, I wanted to find everything that will keep me warm without completely breaking the bank (so yeah, the $900 jacket was definitely a no-go!)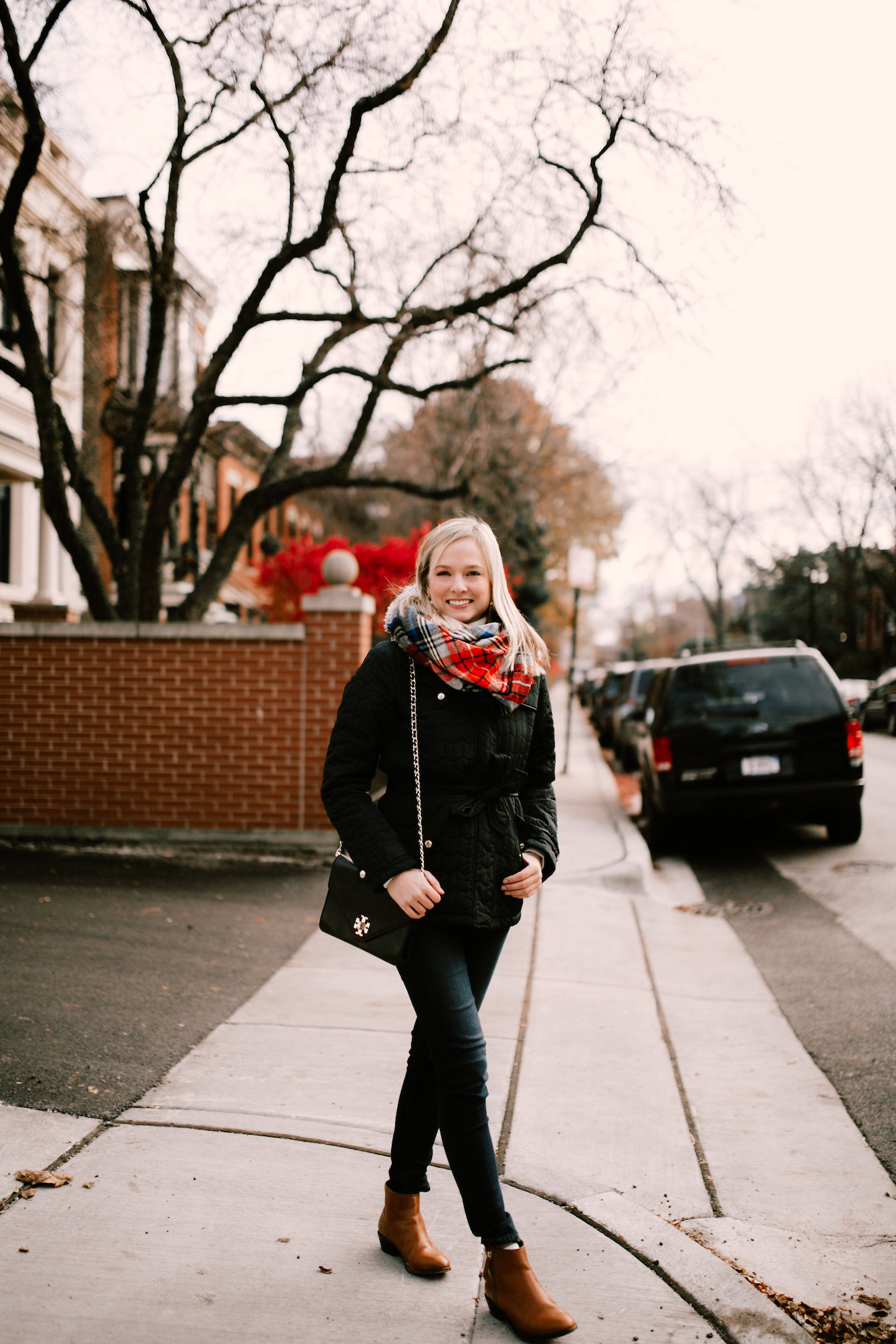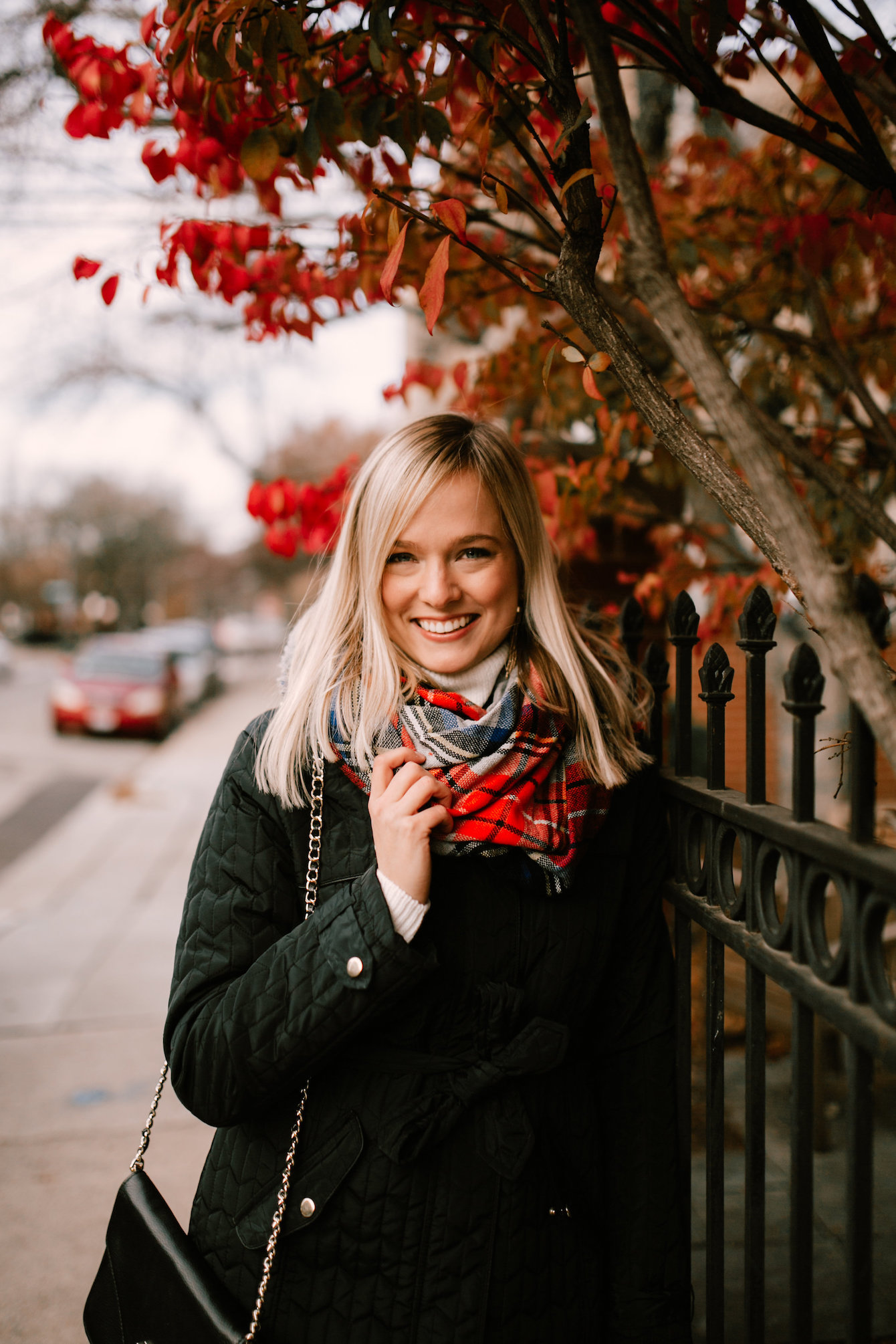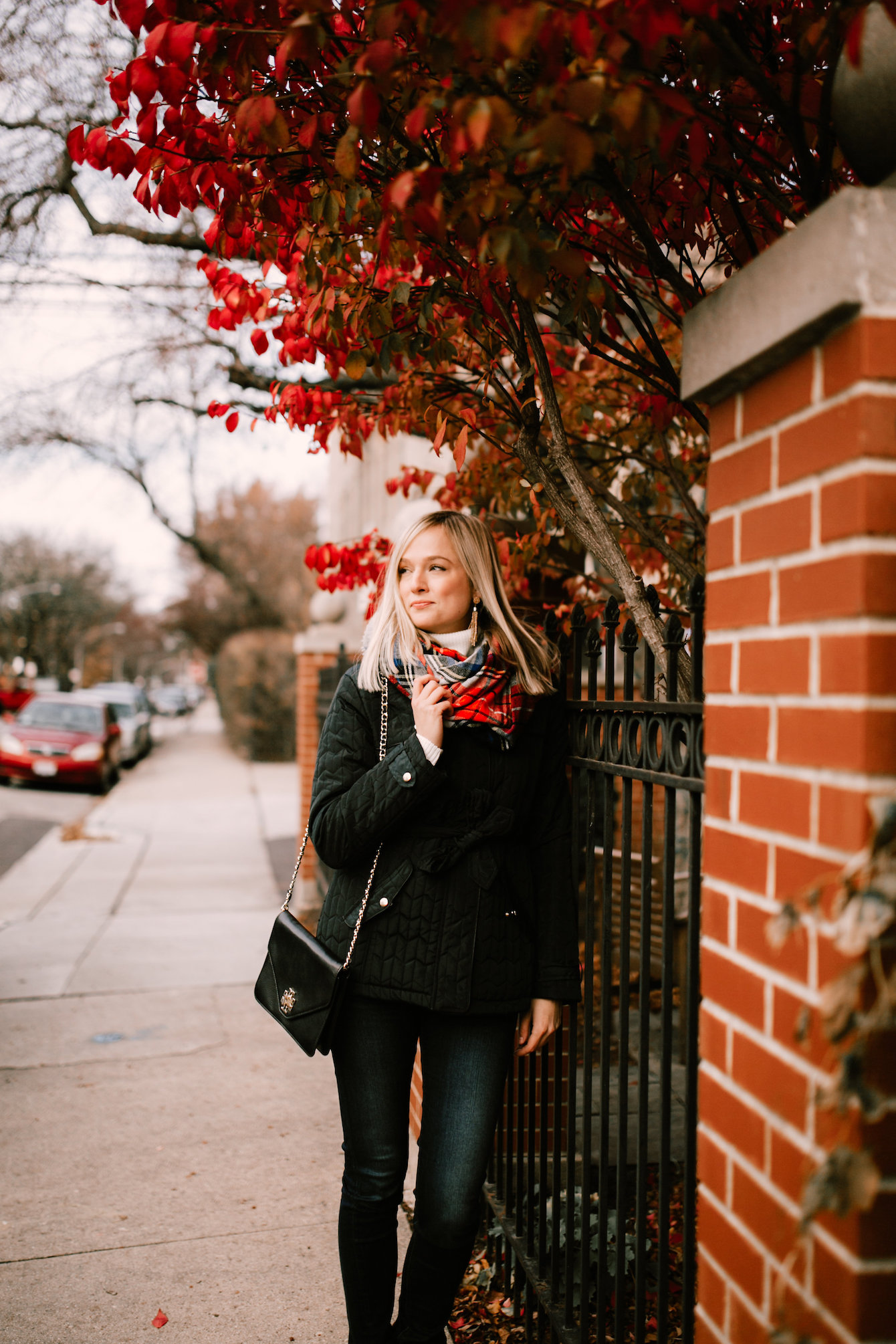 To find a few cozy layers that wouldn't break the bank, I stopped by Gordman's to check out their selection of jackets, sweaters, scarves, winter dresses and more. I've always loved Gordman's since they opened back home when I was in high school (we won't talk about how long ago that was…), and since then it's been my go-to place for finding quality, layered pieces on a budget. On another note – it's also an awesome place to get cute, affordable gift sets for your co-workers or toys for any cute kids on your Christmas list!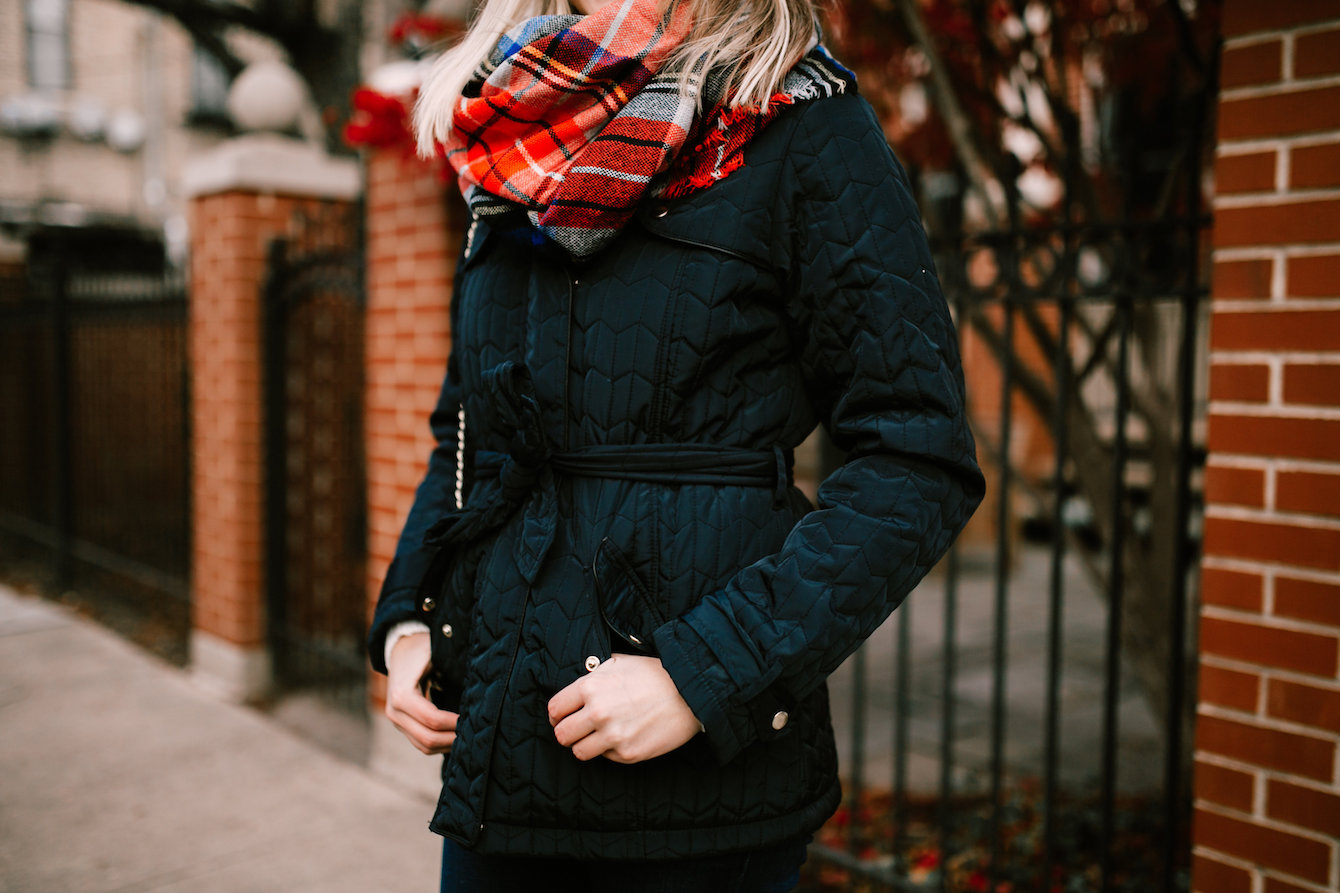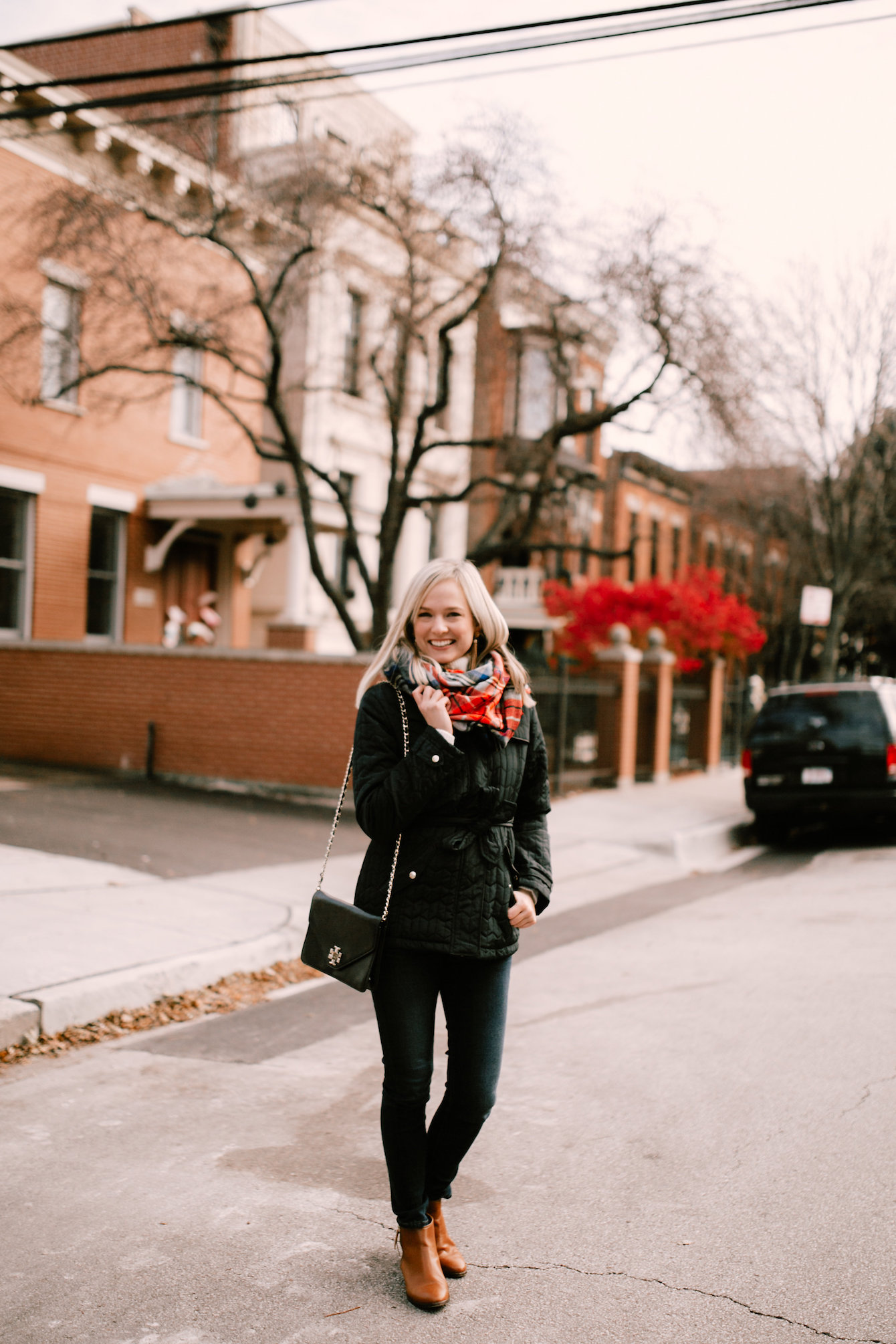 I picked up this stitched field jacket for less than $40, as well as this pretty plaid scarf that was only $13 – both of which are super cozy and definitely didn't break the bank. I love that the jacket looks just like the $300 jacket I'd been having my eye on for awhile, and the pretty snap details, faux leather accents and the tied waist make the jacket super special and fit perfectly. I also found this perfect white cable sweater for under $20 that's one of those everyday sweaters I can wear throughout the winter. It has a fold-over turtleneck to keep you cozy underneath your favorite jacket, and looks good with an oversized sweater on those extra cold days. I've already gotten a few compliments on a few of these new wardrobe staples, and when I tell friends that I got it at Gordman's they've been surprised – and then when I've told them how much it cost, they've been extra impressed.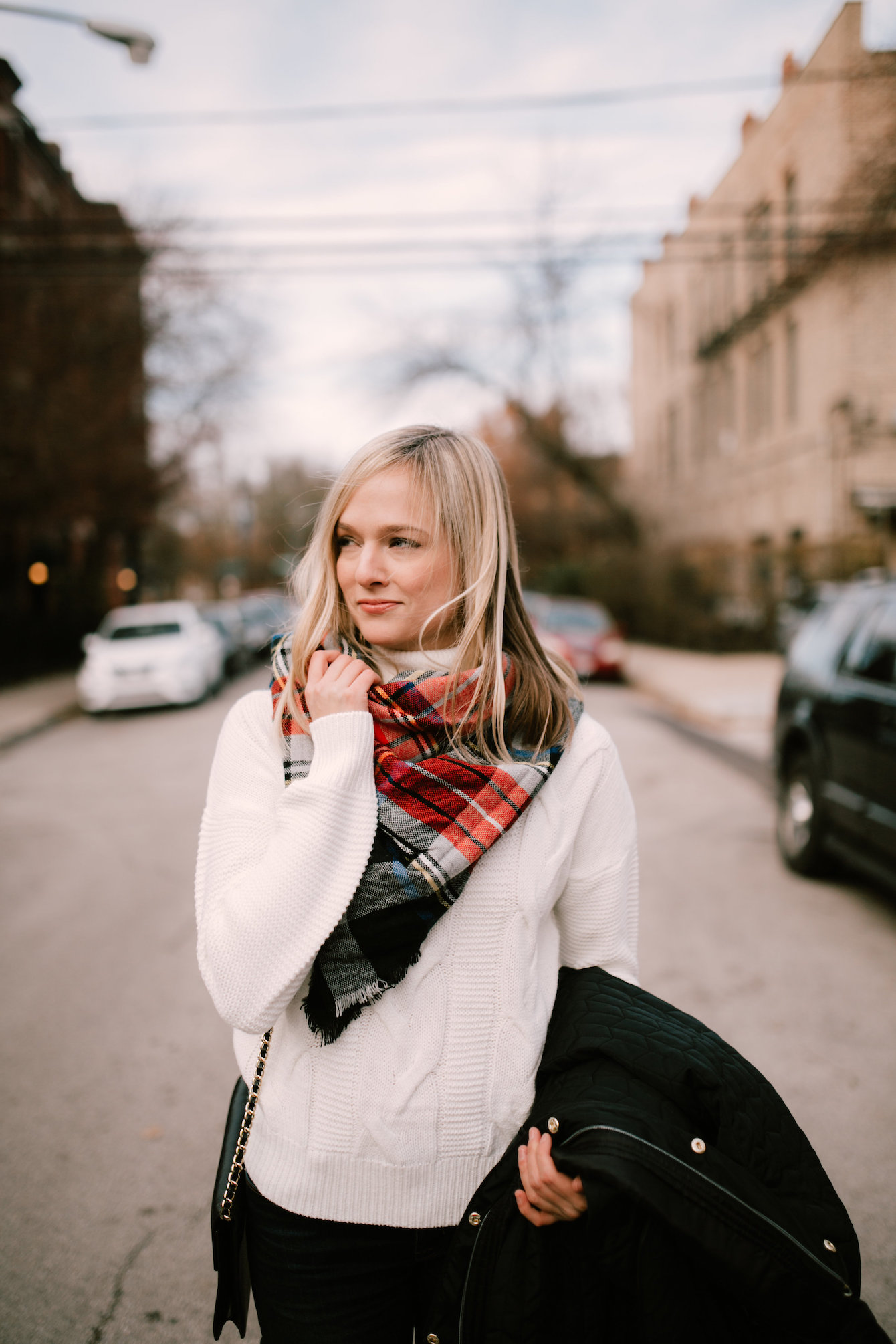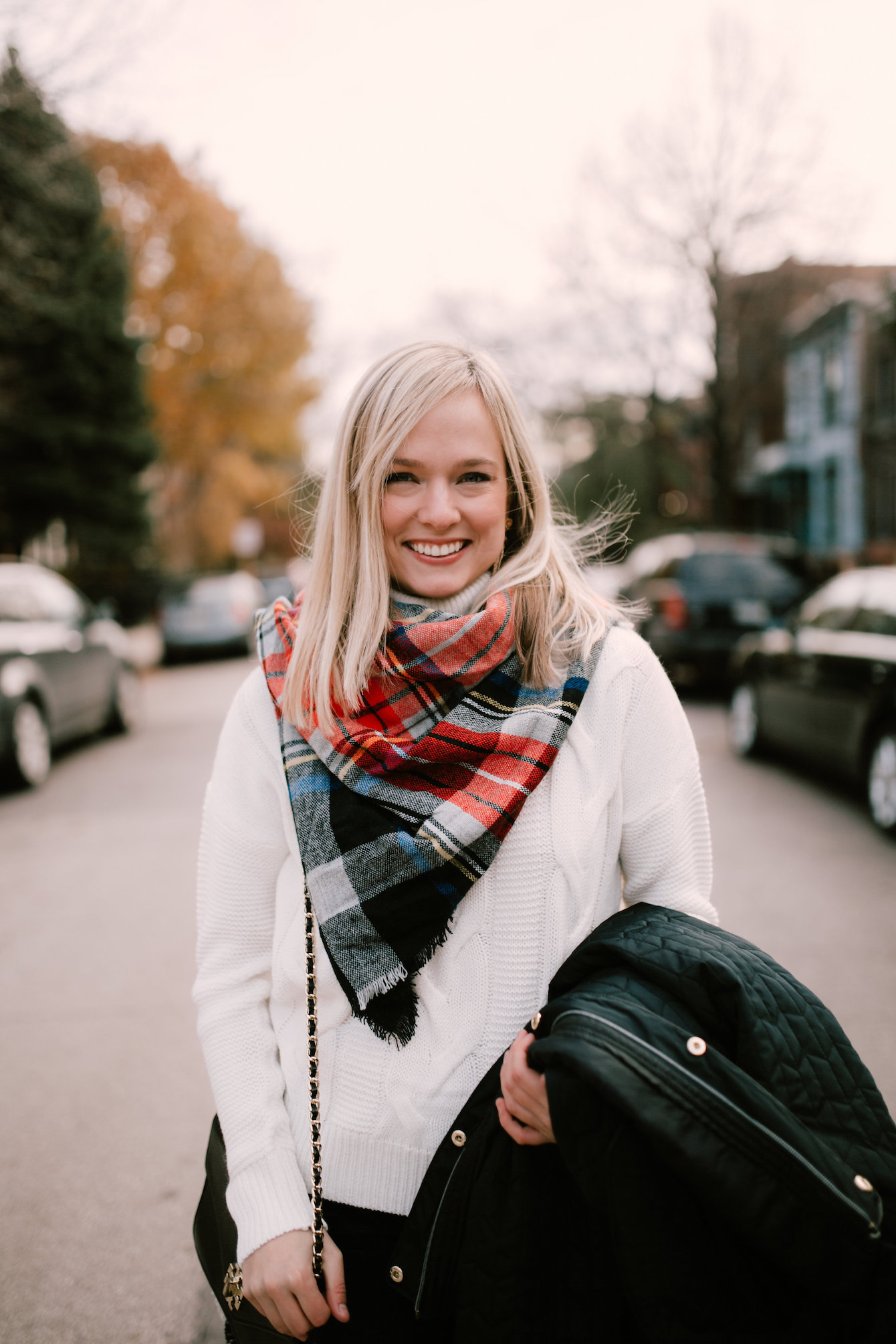 In other news, the week after Thanksgiving hangover is so real – and this week has been dragging (even though it's only Tuesday!) It was so nice having a few extra days last week to relax, but my body is not impressed with this whole "getting back to work" thing this week. Hopefully you're all in better shape than I am, but if you're also struggling – know you're not alone. Only 3 more sleeps 'till Friday! xx
This post was sponsored by Gordman's – thanks for supporting the brands that make Charmingly Styled possible! xx