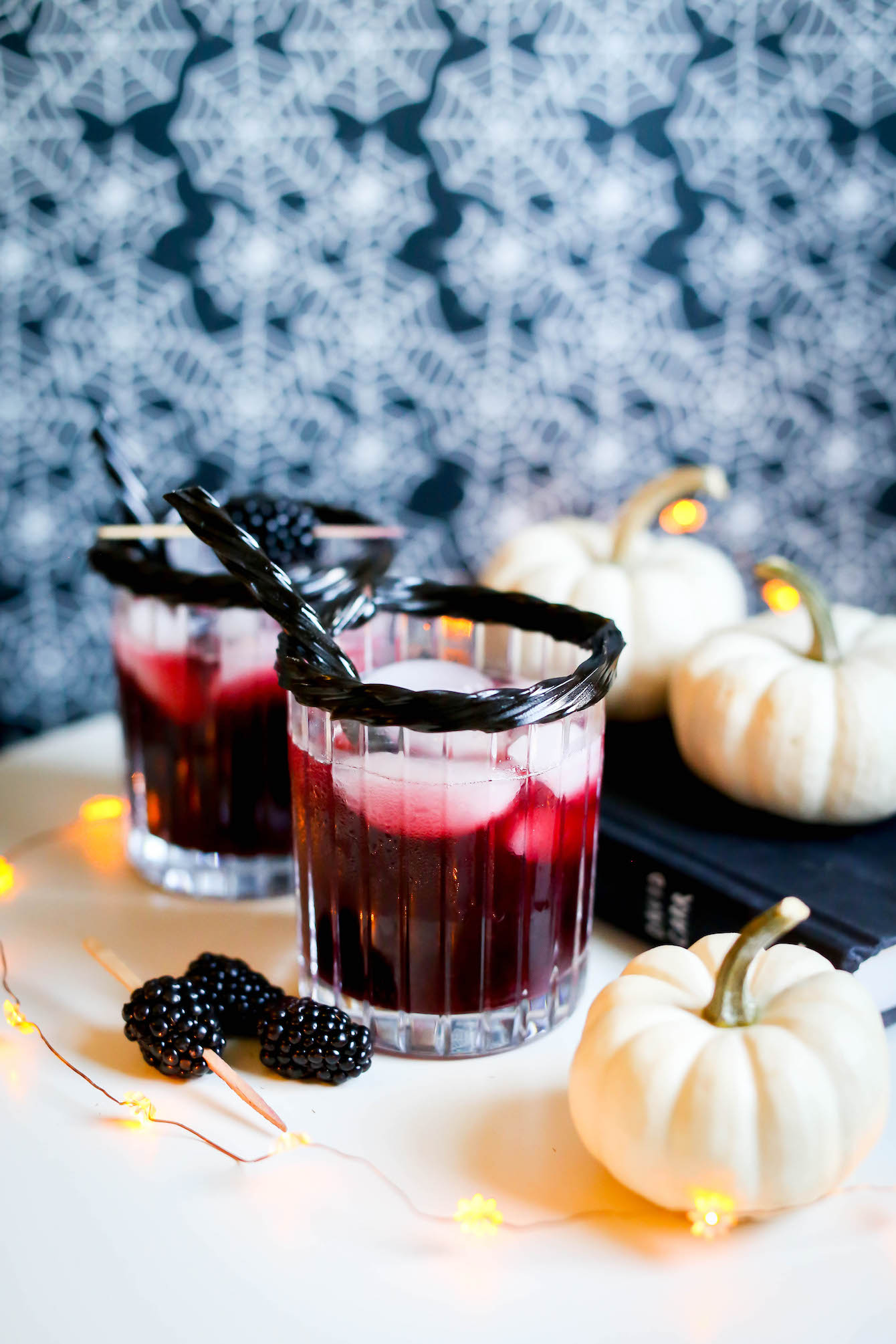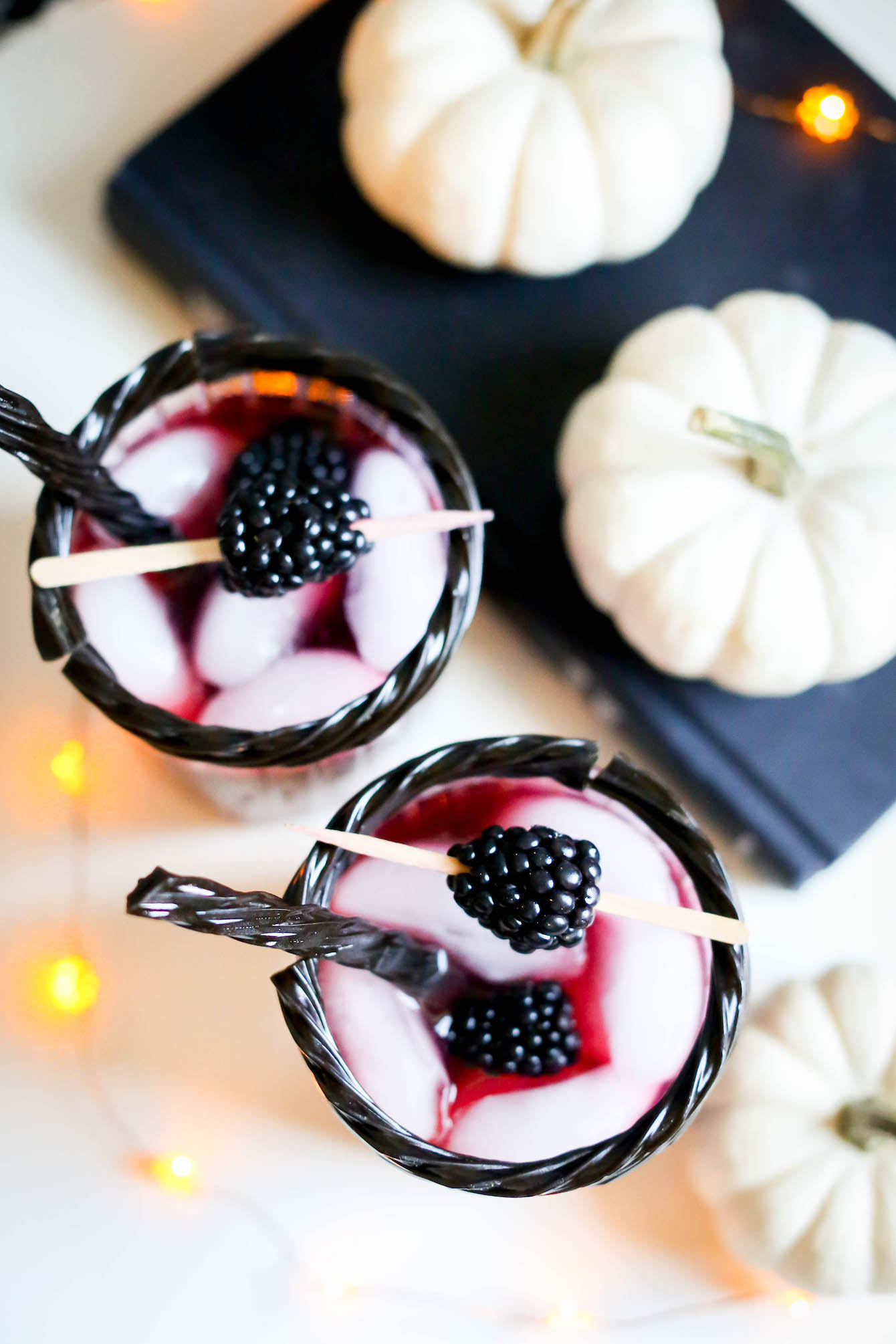 I know it was just 90 degrees a few weeks ago, but it's actually about to be Halloween season up in here! Speaking from a focus group of one, I'm definitely not mentally prepared for Halloween – and odds are looking like I'll most likely be a cat for Halloween for the 10th time in my life. Procrastination costumes FTW!
Unlike myself, my friends at Drizly happen to be master party planners, so they've been whipping up some tasty Halloween cocktails in anticipation of all your upcoming Halloween parties. They even asked me to take a stab at making my own cocktail with the added twist (literally…) of adding Twizzlers to my cocktail of choice. While I'm usually not a black licorice fan, it made the perfect creative garnish to my Winking Witches Brew cocktail that I invented (and the silly name, of course), to be extra spooky for your upcoming Halloween get togethers. I don't always have a blast making cocktails at parties, but this one was so creative and fun to make that I actually think I'll be recreating it if I happen to throw my own Halloween soiree in a few weekends!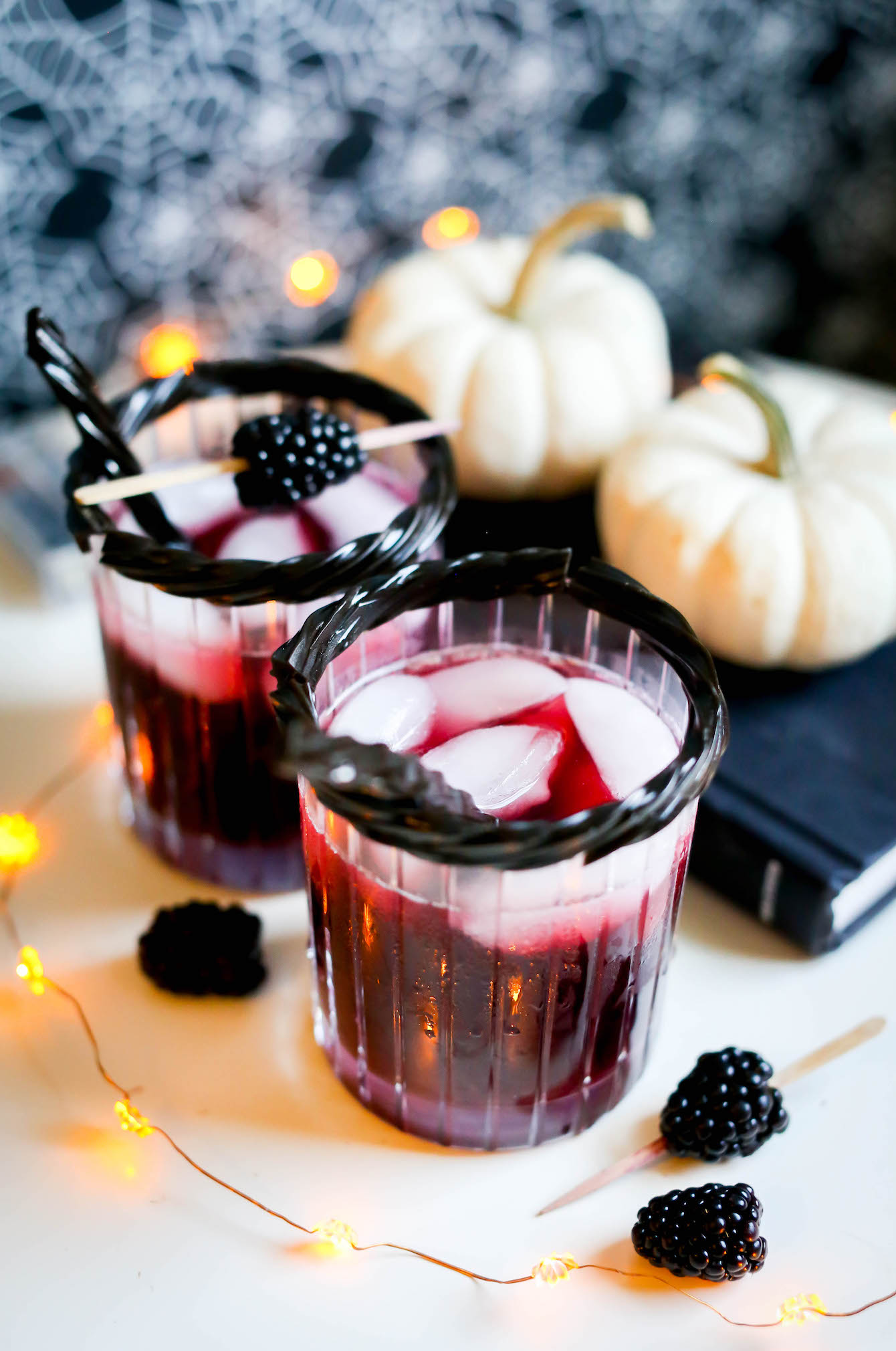 Winking Witches Brew Cocktail: Makes 2 Cocktails 
Ingredients:
For Blackberry Juice –
– 12 oz. fresh or frozen blackberries
– ½ cup of water
For Winking Witches Brew Cocktail:
– 6 oz blackberry juice
– 1 oz simple syrup
– 2 oz Titos vodka
– ice
– Blackberries (for garnish)
– Black Licorice Twizzlers (3 per cocktail)
Directions:
In a saucepan, combine 12 oz. of fresh or frozen blueberries with 1/2 cup water. Heat until boiling and then let simmer for 10 minutes. Once fully cooked through, mash blackberries and strain so only the juice remains.
In tumblers, mix together 6 oz of blackberry juice, 1 oz. simple syrup and 2 oz. of Titos vodka and stir with a swizzle stick. Top with ice and garnish with a cut Twizzlers for a candy swizzle stick. For added effect, take a Twizzler and cut it with a knife through one side horizontally – and place each end of the Twizzlers around the glass for garnish. If the Twizzler doesn't fit all the way around the glass, fill in as much as possible with additional cut Twizzlers to complete the circle.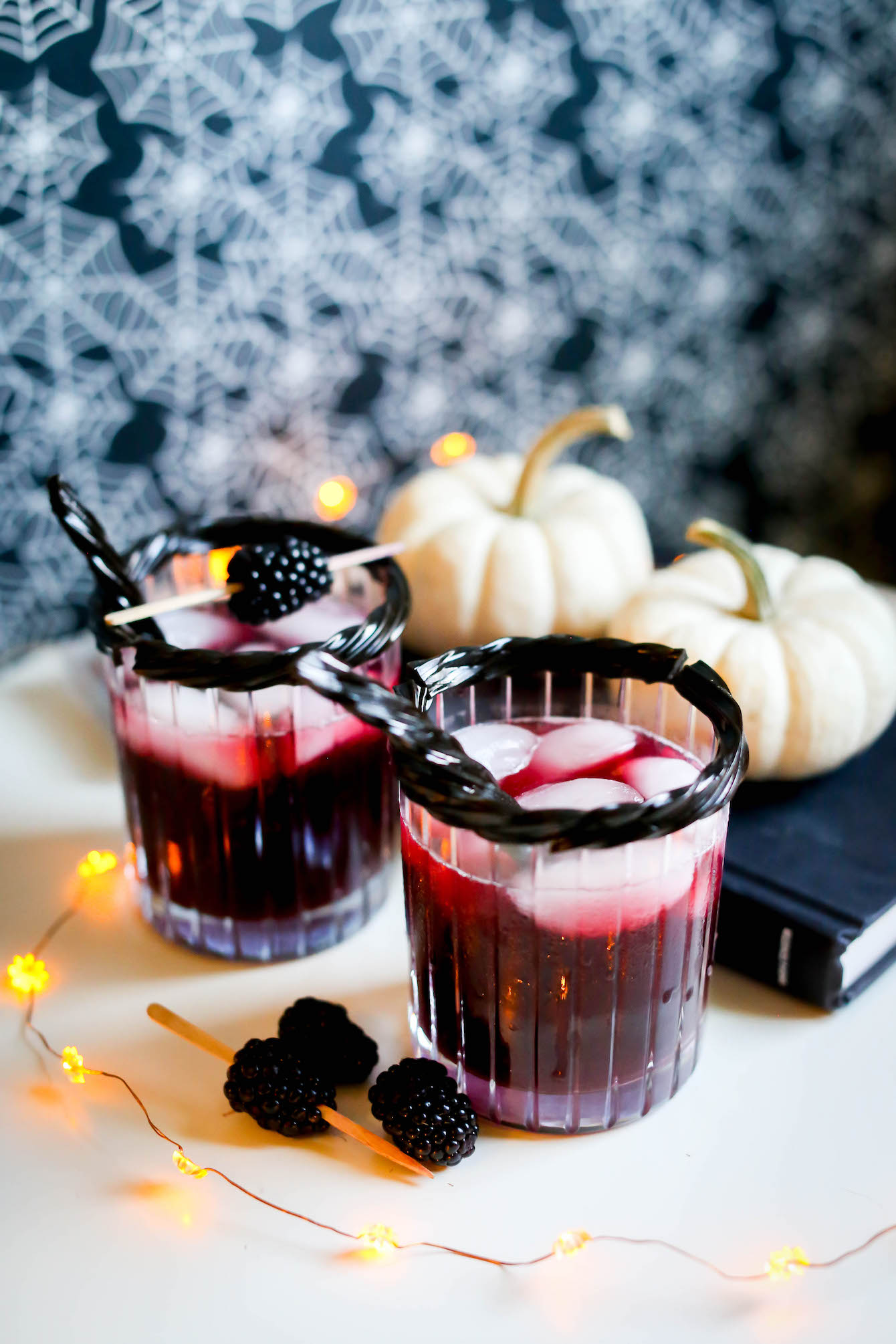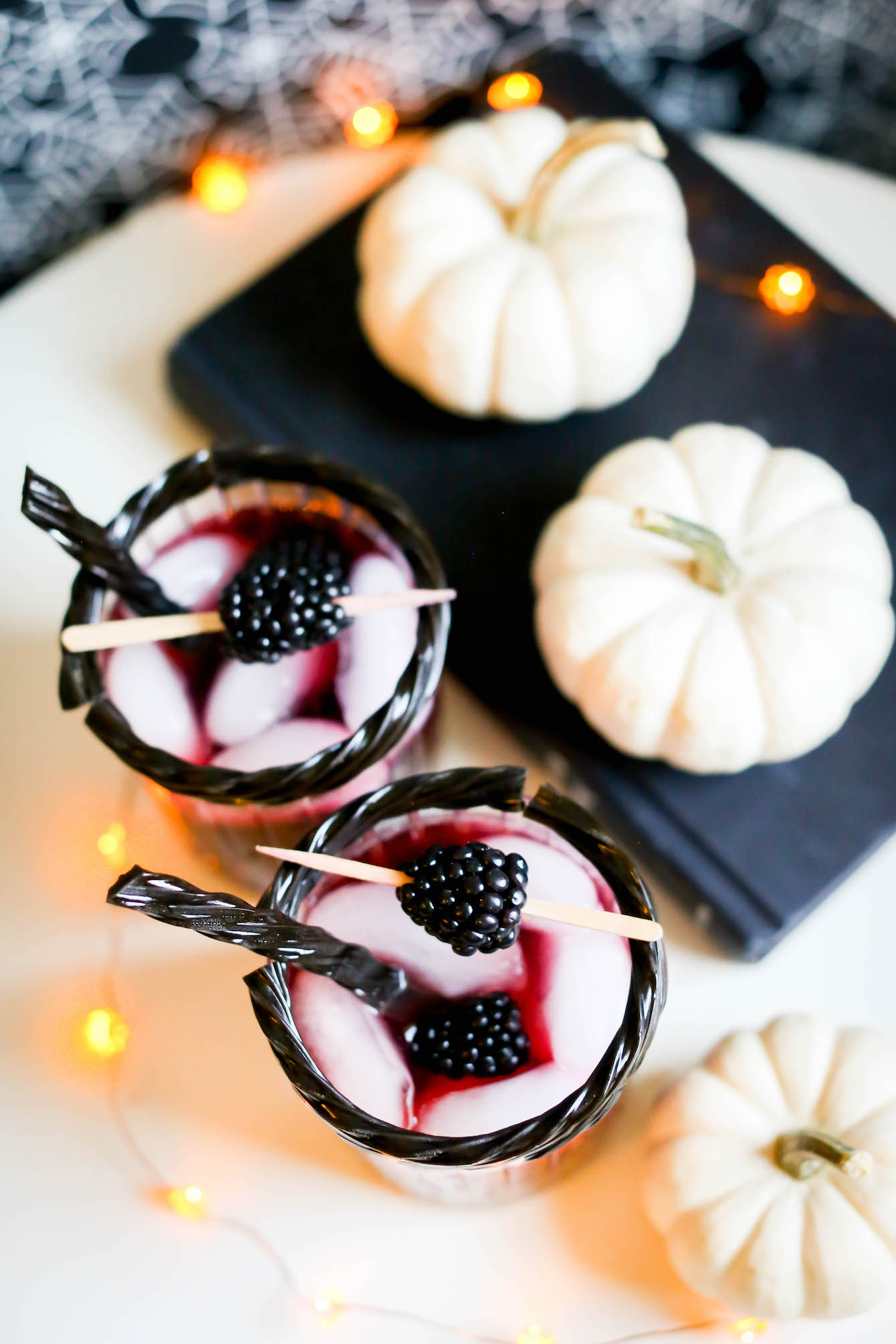 Not too shabby, eh? And pretty darn adorable if I do say so myself 😉
In other news, I hope you're all gearing up for a fun weekend ahead! I'm planning to get some work done (I'm in a continuous game of catch up between this here blog and my regular day job, eeek!), spending time with friends and trying to find some time to relax in between in all. I have a few upcoming trips for work and for fun, so I'm trying to prep for those too! Who knew vacations could be so much work?! 😉